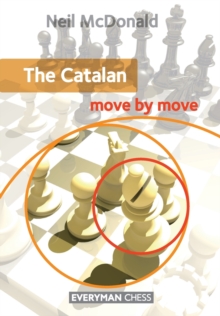 Catalan : Move by Move
Paperback / softback
Description
This series provides an ideal platform to study chess openings.
By continually challenging the reader to answer probing questions throughout the book, the Move by Move format greatly encourages the learning and practising of vital skills just as much as the traditional assimilation of opening knowledge.
Carefully selected questions and answers are designed to keep you actively involved and allow you to monitor your progress as you learn.
This is an excellent way to study any chess opening and at the same time improve your general chess skills and knowledge. ----- The Catalan is a solid opening system in which White combines the Queen's Gambit with a kingside fianchetto.
In recent years it has become an increasingly popular choice at all levels of chess, and elite grandmasters such as Vladimir Kramnik have developed major new ideas for both White and Black.
The Catalan can lead to a wide variety of positions, open or closed, tactical or strategic, that will suit players of all styles.
In this book, Grandmaster Neil McDonald invites you to join him in studying the Catalan and its many variations. McDonald shares his experience and knowledge of the Catalan, examines the main plans for both sides and provides answers to the key questions. ----- * Essential guidance and training with the Catalan --- * Important ideas absorbed by continued practice --- * Utilizes an ideal approach to chess study
Information
Format: Paperback / softback
Pages: 304 pages
Publisher: Everyman Chess
Publication Date: 01/05/2017
Category: Chess
ISBN: 9781781942635