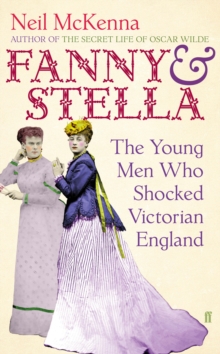 Fanny and Stella : The Young Men Who Shocked Victorian England
Hardback
Description
28th April 1870. Fanny and Stella, the flamboyantly dressed Miss Fanny Park and Miss Stella Boulton, are causing a stir in the Strand Theatre.
All eyes are riveted upon their lascivious oglings of the gentlemen in the stalls.
Moments later they are led away by the police. What followed was a scandal that shocked and titillated Victorian England in equal measure.
It turned out that the alluring Miss Fanny Park and Miss Stella Boulton were no ordinary young women.
Far from it. In fact, 'Boulton and Park' were young men who liked to dress as women.
When the Metropolitan Police launched a secret campaign to bring about their downfall, they were arrested and subjected to a sensational show trial in Westminster Hall. As the trial of 'the Young Men in Women's Clothes' unfolded, Fanny and Stella's extraordinary lives as wives and daughters, actresses and whores were revealed to an incredulous public.
With a cast of peers, politicians and prostitutes, drag queens, doctors and detectives, Fanny and Stella is a Victorian peepshow, exposing the startling underbelly of nineteenth-century London. By turns tragic and comic, meticulously researched and dazzlingly written, Fanny and Stella is an enthralling tour de force.
Information
Format: Hardback
Pages: 416 pages
Publisher: Faber & Faber
Publication Date: 01/02/2013
Category: True stories
ISBN: 9780571231904
Other Formats
Paperback from £8.65
EPUB from £6.39
Free Home Delivery
on all orders
Pick up orders
from local bookshops
Reviews
Showing 1 - 2 of 2 reviews.
Review by wigsonthegreen
16/06/2015
This was an interesting read but the writing style could have been much sharper. There were too many clichés thrown in and often the same thing was said twice just using different words.
Review by shanaqui
16/06/2015
Despite the claims of meticulous research, <i>Fanny &amp; Stella</i> seems to be mostly a sensational recounting of some admittedly quite sensational events. On the one hand, I felt that there was a lot of delight taken in talking about the "sordid" details -- pretty thorough accounts of physical examinations for sodomy, and also a bit of an obsession with the sex as well. It's also written in many places as if it's nothing but a story, and it certainly doesn't keep in mind that for Stella and Fanny, this trial was potentially a death sentence.On the other hand, from the descriptions here (admittedly this could be the author's work rather than reality), the two would have loved the attention, the tell-all details, outside the context of, you know, being in great danger. And I certainly learnt about the LGBT community in the Victorian period, and some of it rather surprised me. The fact that Fanny and Stella were referred to by those names, more or less consistently, and by female pronouns... I couldn't decide if that was meant to be respectful to them (what were their gender identities? Would they even have had a concept of that as we do?) or if it was meant to drive home at every point the whole "He-She Women" thing going on. Adding to that was the way the author presumed to know what was going on in their minds...All in all, it's entertaining but I wouldn't trust it as solid scholarship, and I'm a bit leery of the author's motives in writing it. Certainly it felt like there was a lot of prurient interest going on.
Also by Neil McKenna