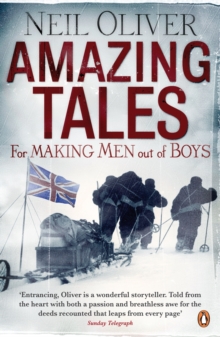 Amazing Tales for Making Men Out of Boys
Paperback
Description
Captain Robert Falcon Scott didn't start out life as a hero.
In fact, as a boy and young man he was considered small, frail and shy.
So what was it that turned this ordinary man into a legend?Through his gripping new account of how this modest naval officer became Scott of the Antarctic, Neil Oliver vividly relates the awe-inspiring tales that inspired Britain's greatest hero. And alongside these epics of courage, fortitude and sacrifice, Oliver tells the astonishing stories of those heroes who followed Scott and whose deeds stood comparison with this iconic explorer's own humbling example.From Rorke's Drift to the Battle of Britain and Nelson to Neil Armstrong, these are men who understood - as Scott always did - that it was more important to die a hero than live a coward's life.
Information
Format: Paperback
Pages: 384 pages, Colour illustrations throughout.
Publisher: Penguin Books Ltd
Publication Date: 01/04/2009
Category: General & world history
ISBN: 9780141035598
Free Home Delivery
on all orders
Pick up orders
from local bookshops
Reviews
Showing 1 - 2 of 2 reviews.
Review by iamthenewno2
16/06/2015
Oliver has an interesting starting point for his collection of daring-do, that British Men are no longer 'Manly-Men' and he is perhaps correct.The work is a collection of tales of bravery, most of which I was aware of but others I will have to source more information on, not only British but he also includes French, Native Indian and Byzantine tales. For those looking for an in-depth coverage of these events it would be better to look elsewhere but as an introduction or pointer to further works the book serves well.I only found one discussion point in the book but this one leads me to think that due to the light investigation that has gone into the tales others may also exist, in the chapter on Dien Bien Phu Oliver states that 2 civilian airmen where the first American casualties in Vietnam but from the far more detailed 'The Last valley' by Martin Windrow stated that the 'Airline' which supplied these fliers, "Civil Air Transport", was wholly owned by the CIA from 1950.
Review by Helenliz
16/06/2015
 OK! I admit, I'm not a boy, but I decided to ignore the implicit sexism in the title and read it anyway. It's basically a big book of boys adventures. <br /><br /><br /><br />What makes a hero - according to this book it is a combination of circumstances and example; without the heroes of the past there's nothing to live up to. The examples of herosim in this book aren't always the obvious ones and are from around the world. They make it perfectly plain how over used the word "hero" is. The media describe a footballer as a hero for kicking a ball into a net; that's not the heroism of this book. In here heroes are ordinary men who find that, when the situation calls for it, that they are capable of performing something extrordinary. <br /><br /><br /><br />They are, in various degrees, moving. All of them ask you to think if you would have or could have done the same thing. As the tales make plain, there is nothing in a hero to show that they will become a hero - it's not always about being the biggest, strongest or boldest, sometimes it is simply about being one of a band of brothers. Some of them are similar, an outnumbered group of soldiers fight to the last man. But somehow it's never entirely pointless, and it echoes down the ages. <br /><br /><br /><br />It slightly looses the thread towards the end and there is no rounding off chapter to match the intial opening, which means that it feels open ended - in a way, I suppose, it should do, there will always be occasions that call for heroes - we can only hope that they will be there if they are ever called for."