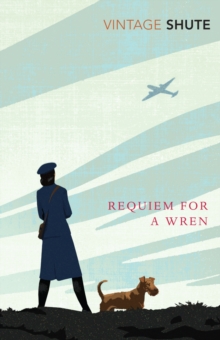 Requiem for a Wren
Paperback
Description
The mysterious death of a young woman on an Australian farm reveals a heartrending story of doomed wartime romance Alan Duncan returns to his family home in Australia after the war and several years of study in England.
But his homecoming is marred by the mysterious suicide of his parents' quiet and reliable parlour-maid.
A search through her belongings in search of clues leads to heartbreaking revelations about the woman's identity, the death of Alan's brother Bill, and, above all, the disappearance of his brother's fiancee, Janet. Nevil Shute Norway was born on 17 January 1899 in Ealing, London.
After attending the Dragon School and Shrewsbury School, he studied Engineering Science at Balliol College, Oxford.
He worked as an aeronautical engineer and published his first novel, Marazan, in 1926.
In 1931 he married Frances Mary Heaton and they went on to have two daughters.
During the Second World War he joined the Royal Navy Volunteer Reserve where he worked on developing secret weapons.
After the war he continued to write and settled in Australia where he lived until his death on 12 January 1960.
His most celebrated novels include Pied Piper (1942), No Highway (1948), A Town Like Alice (1950) and On the Beach (1957).
Information
Format: Paperback
Pages: 272 pages
Publisher: Vintage Publishing
Publication Date: 03/09/2009
Category: Classic fiction (pre c 1945)
ISBN: 9780099530237
Free Home Delivery
on all orders
Pick up orders
from local bookshops
Reviews
Showing 1 - 3 of 3 reviews.
Review by jeniwren
16/06/2015
This is a lesser known classic from one of our loved authors( On the Beachand A Town Like Alice). This is a beautifully told love story set duringthe war about an English woman ,a Wren in the airforce who meets anAustralian soldier who is then killed in battle . His brother returns to Australianow with a permanent disability following the war to his family farm only todiscover that the day before his arrival the house maid has committedsuicide. To say anymore would spoil it for anyone who would be interested inreading this wonderful book.
Review by jayne_charles
16/06/2015
Nevil Shute writes very well about effects of war on individuals' lives. This is a good example. Told sort of backwards (in that we know what eventually happens to the main character within a couple of chapters, the story explains how she arrived there), it's a fascinating account of life as a Wren in WWII. Shot through with a feeling of nostalgia and profound regret, I found this book unputdownable. The ending could be interpreted as tragic or uplifting, depending on your mood.
Review by clfisha
16/06/2015
Alan Duncan returns from England to his families ranch in Australia, but his happy homecoming is marred by the housekeepers suicide. He takes it upon himselg to track down her diaries and letters and to follow her self destructive journey that ended so tragically far from home.For those who have never read Nevil Shute before I can only provide a bemused blank stare. Admittedly he is not for everyone; he wrote about a time and place that is alien to us and to be honest had disappeared by the time he wrote it, but in this case it works in its favour. Shute vividly captures Britain in WWII, it's effects on ordinary people and he does this so well that you are caught up in tragedy hoping for a happy ending you know doesn't exist. Not only this you are also learning a great deal about a slice of history, part of Shute's brilliance is to take dull facts and mesh them into a highly emotional story.He does have his faults, the plotting on this one is a little forced although ultimately forgivable and whilst he tries to provide a glimmer of hope I quite frankly didn't notice through the tears. Still at least it's not as depressing as On the Beach.Mandatory reading for all history buffs, but also anyone who loves a good weepy.