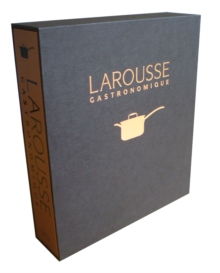 New Larousse Gastronomique
Hardback
Description
Larousse Gastronomique is the world's classic culinary reference book, with over 35,000 copies sold in the UK alone.
Larousse is known and loved for its authoritative and comprehensive collection of recipes.
Here it is brought up to date for 2009 in an attractive edition containing over 900 new colour and black and white photographs.
All chapters have been read and edited by field specialists, and 85 biographies of chefs have been added.
Entries have also been regrouped for increased accessibility.Originally created by Prosper Montagne and published in 1938, this essential addition to any kitchen has withstood the test of time and become an invaluable source of information for every enthusiastic cook.
Without the exaggeration and extravagant distractions of many of today's cookery titles, New Larousse Gastronomique contains recipes, tips, cooking styles and origins for almost every dish in history.
Information
Format: Hardback
Pages: 1216 pages
Publisher: Octopus Publishing Group
Publication Date: 05/10/2009
Category: National & regional cuisine
ISBN: 9780600620426
Free Home Delivery
on all orders
Pick up orders
from local bookshops
Reviews
Showing 1 - 1 of 1 reviews.
Review by keylawk
16/06/2015
Contains a General Index of key topics, and a separate Index of Recipes. Weights and measures are given in metric, Imperial, and American standards, with a nice precaution that "it is advisable" not to mix them. Unlike most cookboooks sorted by type of dish or recipe, this encyclopedia presents topics in alphabetical order.This work is touted to be "the world's most famous culinary reference book" and to provide comprehensive coverage of "every aspect of cookery". This includes history and traditions of foods and eating, biographies of chefs, cooking terms, and culinary techniques. For example, how to filet a fish, or make beurre blanc. How to store and use ingredients. Provides over 3,800 recipes, many of which are classic and non-obvious.Prosper Montagne published the first edition in Paris in 1938. This revised English edition features 90 new biographies and expands the global scope. There is emphasis on techniques of contemporary cuisine -- alongside simmering, braising, roasting and baking, we now find induction or plancha cooking and the use of liquid nitrogen and creating foams. New ingredients such as cactus, eddo, haloumi, potmarron and tonka beans, along with new recipes such as chocolate avocado souffles. With over 800 illustrations and 400 photographs.Under "Abattoir" is a small section on "Slaughtering in former times", with a surprising observation that "in the language of Homer, to express the idea of the slaughter of livestock, there are no verbs other than those relating to offering up sacrifices to the gods". What a wonderful thing to repeat -- to recall the days when our food animals were treated with respect, even "religiously". Today, we eat creatures produced in factories and torture chambers. Chickens who live to scratch the earth, are pinned in cages and never touch the ground. Calves are locked in pens and have never spent their youth gamboling the meadows! We have fished to near extinction species we once ate in abundance. We are doing this WRONG. J'Accuse! Fortunately, many people "care" about food. My takeaway on the attitude of the many authors of this encyclopedia is that transparency, planning and integrity must attend what we eat. Every professional and every consumer should insist that great "care" be taken of our food.