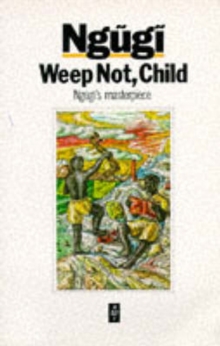 Weep Not, Child
Paperback
Description
Tells the moving story about the effects of the Mau Mau war on the lives of ordinary men and women in Kenya.
In the forests, the Mau Mau are waging war against the white government, and two brothers, Kamau and Njoroge, and the rest of the family must decide where their loyalties lie.
Information
Format: Paperback
Pages: 144 pages
Publisher: Pearson Education Limited
Publication Date: 09/02/1988
ISBN: 9780435908300
Free Home Delivery
on all orders
Pick up orders
from local bookshops
Reviews
Showing 1 - 1 of 1 reviews.
Review by kidzdoc
16/06/2015
Ngugi's powerful debut novel about colonial Kenya was released in 1964 while he was a student at the University of Leeds, and was the first book published in English by an East African. The story is centered around Njoroge, a young Kenyan boy within a loving but impoverished household who is overjoyed when his father Ngotho is able to pay for him to attend school, an opportunity that was not made available to his older brothers. Ngotho is barely able to provide for his family as he works for Mr Howlands, a white landowner who views the Africans who work for him as savages who are barely more useful or worthy of his attention than his farm animals. The property that Ngotho and his family lives on is owned by Jacobo, a wealthier black Kenyan who is supportive of the Mr Howlands and other colonialists and oppresses and torments Ngotho and other landless natives.Ngotho is challenged by an older son to take a stand against his employer and participate in the nationwide strike against white rule, subsistence wages, and laws designed by the colonialists to restrict most black Kenyans from advancement. The strike is brutally repressed, and Ngotho and his family suffer as a result. The failure of the strike leads to the Mau Mau uprising, in which nationalists commit acts of violence against colonialists, and black Kenyans who do not agree with their oath of loyalty. Njoroge is caught in the middle of the struggle, as he does not take the oath of loyalty but is opposed to colonialists and the natives that benefit from their rule. His older brothers join the freedom fighters, as the conflict threatens the lives Njoroge and the other members of his family, and he is forced to decide whether to continue with his education or take a stand with or against his brothers and his father.<i>Weep Not, Child</i> is a superb first novel, as Ngugi convincingly places the reader amidst the difficult decisions and violence that many ordinary Kenyans faced during the early days of the independence movement. I would have enjoyed this novel more if some of the key supporting characters had been better developed, but this is a minor criticism of this highly recommended book.
Also in the Heinemann African Writers Series series | View all