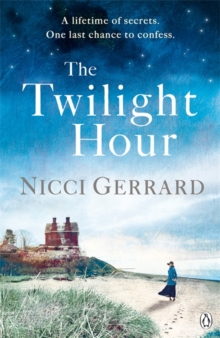 The Twilight Hour
Paperback
Description
Secrets and memories collide in The Twilight Hour, the new novel from bestselling author Nicci Gerrard.'Be with me now, at the twilight hour.
When the light fails.' 'I'm here.' 'Tell me.' 'What shall I tell you?' 'Tell me about us, when we were young.
What was it like? What was I like then?'Eleanor Lee has lived a fiercely independent existence for over ninety years, but now it's time to tidy her life away - books, photographs, paintings, letters - a lifetime of possessions all neatly boxed up for the last time.
But amongst them there are some things that must be kept hidden. And, nearing blindness, Eleanor needs help to uncover them before her children and grandchildren do.Peter, a young man with a broken heart who feels as lost as Eleanor's past, is employed to help with this task. And together they uncover traces of another life - words and photographs telling a story of forbidden love, betrayal, passion, grief and self-sacrifice, which Eleanor must visit one last time.By speaking her memories out loud, and releasing the secrets of her past, Eleanor can finally lay them to rest.
To honour them at last, and protect those who must never know.Praise for Nicci Gerrard:'Beguiling, poignant, wonderful' Sunday Express'Acutely observed and beautifully written' Woman and Home'Subtle, poignant and tremendously skilful' ObserverNicci Gerrard writes for the Observer and is the co-author, with Sean French, of the bestselling Nicci French thrillers.
She lives in Suffolk with her husband and four children.
Her novels Things We Knew Were True, Solace, The Moment You Were Gone, The Winter House and Missing Persons are all published by Penguin and received rave reviews.
Information
Format: Paperback
Pages: 416 pages
Publisher: Penguin Books Ltd
Publication Date: 23/10/2014
ISBN: 9781405919838
Free Home Delivery
on all orders
Pick up orders
from local bookshops
Reviews
Showing 1 - 3 of 3 reviews.
Review by shizz
27/08/2015
The Twilight Hour by Nicci GerrardI've never got around to reading any Nicci Gerrard/Nicci French books. But after reading this new novel courtesy of Real Readers I realise it is my loss.It's a well written, well constructed novel which has a story, if that's all you want from a book, but it also has much to say about memories and secrets, self sacrifice and responsibilities, consequences and how all these stir our minds as we age and creep closer to acknowledging our own mortality.It's not a new technique, an elderly protagonist reviewing a life that, as the title tells us, is in the twilight hour. The use of the younger confidante trying to make sense and cohesion of their own life confronted with parallels from the older person, is also not a new literary device. But it all works here and the competence of the writer projects it beyond a mere memoir novel.The main characters are well defined. I sometimes found that Peter could have been developed more, it was almost as if there is another story for him where he will grow into the character he, intrinsically, is.I found the closing chapter to be very moving and quite poignant with an insight into how a mind might work in its twilight hour but I suspect that may be an age thing and such philosophy may not resonate with younger readers.It's an enjoyable read.
Review by nicx27
27/08/2015
I really enjoyed this book and raced through it. It tells the story of Eleanor Lee, 94 years old and having to move out of her house because of her failing eyesight. She employs a friend of her grandson, Peter, to go through her many letters, photographs and other belongings, in particular to find something that she doesn't want her family to see.It's a lovely book. The big secret isn't that much of a secret really but Eleanor tells her story to Peter and it's really quite moving. Eleanor is a wonderful creation, feisty and uncompromising. I've read a few of Nicci Gerrard's books now and I do like her style of writing. This is an excellent story and is well-written and interesting.
Review by oldblack
27/08/2015
Once again, this author has defied my expectations and written a book that appealed strongly to me. I very nearly abandoned it after the first chapter, which I hated. However, it came good and I enjoyed it quite a lot. I guess it is a little further down the 'romance' end of the genre spectrum than I would normally accept, but the characters and most of the situations were quite real to me (that's usually the problem with romance - it's not believable, especially for a cynical and dark person such as me). This focus on aging, dying and death appealed to me because I am doing one or two of those & so is my mother.