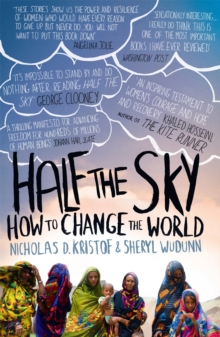 Half the Sky : How to Change the World
Paperback
Description
Pulitzer Prize-winning reporting team, husband and wife Nicholas D.
Kristof and Sheryl WuDunn, take us on a journey through Africa and Asia to meet an extraordinary array of exceptional women struggling against terrible circumstances.
More girls have been killed in the last fifty years, precisely because they are girls, than men were killed in all the wars of the twentieth century combined.
More girls are killed in this routine 'gendercide' in any one decade than people were slaughtered in all the genocides of the twentieth century.
In the nineteenth century, the central moral challenge was slavery.
In the twentieth, it was totalitarianism. In the twenty-first, Kristof and WuDunn demonstrate, it will be the struggle for gender equality in the developing world.
Fierce, moral, pragmatic, full of amazing stories of courage and inspiration, HALF THE SKY is essential reading for every global citizen.
Information
Format: Paperback
Pages: 352 pages, Integrated: 20, b/w
Publisher: Little, Brown Book Group
Publication Date: 05/08/2010
Category: Development studies
ISBN: 9781844086825
Other Formats
EPUB from £8.49
Paperback from £7.85
Free Home Delivery
on all orders
Pick up orders
from local bookshops
Reviews
Showing 1 - 2 of 2 reviews.
Review by Moniica
16/06/2015
Synopsis: Reporter for The New York Times Nicholas D. Kristof takes into a world where women are raped for just leaving the house without their husband, their genitals are mutilated to prevent them from promiscuity, where they're not allowed to stand for government, be educated and are left to be eaten by animals on the edge of their villages when they suffer a fistula from an unaccompanied childbirth. However, despite the amount of hardship life puts them through, we are shown that it is the empowerment of these women which can lift their whole nation out of poverty. By educating and empowering women in developing nations, men are encouraged to think away from traditional values and think practically and morally instead, and nations are encouraged to realise that until women are given education, health care and human rights, they will only ever be able to perform half as good as a developed nation.My Opinion: The battle to end the slave trade was in the 19th Century, the fight against totalitarianism was in the 20th Century, and now, in the 21st Century, we can see the single thing taking more lives than all the World Wars put together is gender inequality among women. An amazing and insightful book which helps us learn what it takes to end this century's battle.
Review by CloggieDownunder
16/06/2015
Half The Sky: Turning Oppression into Opportunity for Women Worldwide by Nicholas D. Kristof and Sheryl WuDunn, is a "must read". It is by no means an easy book to read; it is sometimes quite confronting; in places you will cry; you will be disgusted by the actions of some members of the human race, both male and female; the words and actions of some medical personnel, aid agencies, churches and governments will leave you gasping. But ultimately, this is a hopeful book. The authors explore causes of, and possible solutions to, maternal mortality, human trafficking, sexual violence, discrimination against girls and female genital mutilation. This book tells us that at least part of the answer is gender equality: educate and empower women. It is full of data, but also full of humanity. It has a few surprising facts about diverse things such as sweatshops, about Rwanda, about what interventions are and aren't effective, about TV and about salt. It demonstrates how local knowledge and grassroots programs are most effective in educating and empowering women.I found myself frowning, smiling, crying and, quite a few times, laughing out loud! I especially enjoyed the way the Huichol tribe in Mexico ensure that the pain of childbirth is shared. If you despair at whether you can make a difference to the plight of women in the Third World, this book shows that you can. If the only action a person can take is to donate money, then this book guides the reader to where that will be most effective. We owe it to every woman who has ever suffered in the Third World to read this book.
Also by Nicholas D. Kristof