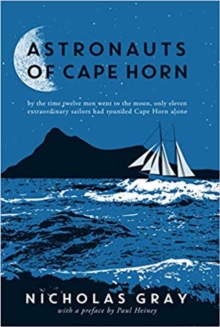 Astronauts of Cape Horn : by the time twelve men went to the moon, only eleven extraordinary sailors had rounded Cape Horn alone
Hardback
Description
In 1969, the first two men landed on the moon. There were five other landings, leading to a total of twelve astronauts standing on the moon.
A further six circled above while the world watched. Also in 1969, Sir Robin Knox-Johnston was the first man to sail solo non-stop around the world south of Cape Horn. He was the eighth of only eleven men who rounded the Horn alone before the final moon landing.
These eleven men had no-one watching them. This dramatic and exciting book, written so vividly you can feel the sea's spray on your face and taste the salt on your lips, tells the story of these eleven men and their sailing exploits, and compares and contrasts their voyages with what the twelve space astronauts achieved. 'One famous astronaut spoke of a "small step for man, one great leap for mankind".
For those who go to sea, rather than into space, there's no greater step than rounding Cape Horn.'From the preface, written by Paul Heiney
Information
Format: Hardback
Pages: 240 pages
Publisher: The Conrad Press
Publication Date: 01/09/2018
Category: Maritime history
ISBN: 9781911546382