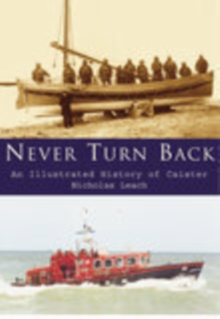 Never Turn Back : An Illustrated History of Caister Lifeboats
Paperback / softback
Description
A century ago, in November 1901, tragedy hit the Caister lifeboat station when the Beauchamp lifeboat capsized near the beach trapping her crew underneath, of whom nine were killed.
This disaster, one of the most famous and tragic incidents in the history of not only the Caister lifeboat station but also the RNLI, has been immortalised in the annals of lifeboat history.
At the subsequent inquiry into the disaster, former Coxswain James Haylett was called as a witness.
At the suggestion that the lifeboat was returning having failed to complete the rescue and the crew had given up in their rescue attempts, he replied 'No they never give up.
Coming back is against the rules.' His answer has been famously misquoted as 'Caister men never turn back' and this emotive phrase, which captured the public imagination at the time, has since become synonymous with the lifeboatmen of Caister.
Caister is famous not only because of the disaster and the considerable amount of publicity received as a consequence, but also because of the large number of lives saved by the station's lifeboats during the nineteenth century when it saved hundreds of vessels using the busy east coast trade route.
The Caister lifeboatmen became famous during the Victorian era, when they were renowned for their bravery and courage.
Today the station has the unique status of being the only independent all-weather lifeboat station in the country. When shipping along the East Coast consisted mainly of small coasting vessels, Caister's lifeboats performed many services to these vessels which became stranded all too easily on the sandbanks that lay just offshore.
The difficulties and discomfort experienced by lifeboat crews during a rescue in bad weather during this era are hard to imagine today.
When oars and sail were the only options for powering rescue craft, lifeboats could be at sea for many hours battling though severe weather, with waves swamping the open boats which offered little or no protection for either rescuers or rescued.
Once the lifeboat was at sea, the only aids towards finding a vessel in trouble were flares, rockets and a knowledge of the area.
Sometimes the lifeboatmen had to get directions from the crews manning the lightships that marked the sandbanks and channels off the East Anglian coast. The services described throughout the book demonstrate the great strength, both mental and physical, of the lifeboatmen.
The men who manned the lifeboats allied that strength to stamina and courage in undertaking the dangerous task of rescue at sea.
As will become clear, almost every service performed by the Caister lifeboats during this era was to a vessel aground on the sandbanks, the dangers of which cannot be underestimated.
Information
Format: Paperback / softback
Pages: 176 pages
Publisher: The History Press Ltd
Publication Date: 01/11/2001
Category: Maritime history
ISBN: 9780752421469
Free Home Delivery
on all orders
Pick up orders
from local bookshops