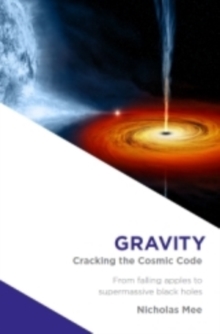 Gravity : Cracking the Cosmic Code
Hardback
Description
Gravity: Cracking the Cosmic Code is the follow-up to Nicholas Mee's Higgs Force.
It is the story of gravity and the heroic efforts to make sense of this mysterious feature of all our lives.
The book takes a historical approach beginning with early attempts to understand astronomy leading up to Newton's theory of gravity and its publication in his masterpiece the Principia, the book that launched the modern scientific age.
The book describes how Newton's theory ruled for over two hundred years until it was superseded by Einstein's very different theory based on the curvature of space and time.
One mind-bending result of Einstein's theory is that there are regions of space that operate like one-way trapdoors from which nothing can escape, not even light.
These objects are known as black holes. The book looks at their properties and the ideas of Stephen Hawking who showed that they might not be totally black after all.
The puzzle that physicists now face is how to marry gravity and quantum mechanics.
Many believe that success in this endeavour will bring about the ultimate Theory of Everything. The final chapter of the book presents the dramatic recent discovery of a supermassive black hole at the centre of our galaxy.
Information
Format: Hardback
Pages: 295 pages, Full Colour
Publisher: Virtual Image
Publication Date: 01/08/2014
Category: Popular science
ISBN: 9781901579482
Free Home Delivery
on all orders
Pick up orders
from local bookshops
Also by Nicholas Mee