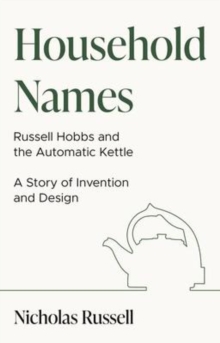 Household Names : Russell Hobbs and the Automatic Kettle - A Story of Innovation and Design
Paperback / softback
Description
Household Names is all about the iconic Russell Hobbs automatic kettles of the 1950s and 60s and the people who invented, designed and made them, set in the wider context of the British economy and culture in the second half of the twentieth century. Russell Hobbs (founded in 1952) was the brainchild of Bill Russell and Peter Hobbs.
They had started out at Morphy Richards before parting company and setting up on their own, with Bill on design and engineering and Peter on marketing and sales. Their story demonstrates the significance of invention and design for successful manufacturing, often neglected by British firms, especially during the latter part of the 20th century, and provides object lessons in how successful product manufacturing might still be done.
Russell Hobbs was an independent firm for only a decade but in that short time established an international reputation for design quality. Brexit and the Coronavirus will almost certainly force British industry to pay more attention to local manufacturing again and this is a timely look at the origins of this famous brand by Nicholas Russell the son of Bill Russell.
Information
Format:Paperback / softback
Pages:252 pages
Publisher:Book Guild Publishing Ltd
Publication Date:28/02/2021
Category:
ISBN:9781913551476
Also by Nicholas Russell