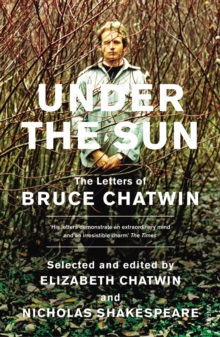 Under The Sun : The Letters of Bruce Chatwin
Paperback
Description
Bruce Chatwin is one of the most significant British novelists and travel writers of our time.
His books have become modern-day classics which defy categorisation, inspired by and reflecting his incredible journeys.
Tragically, Chatwin's compelling narrative voice was cut off just as he had found it. 'Bruce had just begun' said his friend, Salman Rushdie, 'we saw only the first act'.
But Chatwin left behind a wealth of letters and postcards that he wrote, from his first week at school until shortly before his death at the age of forty-eight.
Whether typed on Sotheby's notepaper or hastily scribbled, Chatwin's correspondence reveals more about himself than he was prepared to expose in his books; his health and finances, his literary ambitions and tastes, his uneasiness about his sexual orientation; above all, his lifelong quest for where to live.
Comprising material collected over two decades from hundreds of contacts across five continents, Chatwin's letters are a valuable and illuminating record of one of the greatest and most enigmatic writers of the twentieth century.
Information
Format: Paperback
Pages: 560 pages
Publisher: Vintage Publishing
Publication Date: 01/09/2011
Category: Diaries, letters & journals
ISBN: 9780099466147
Free Home Delivery
on all orders
Pick up orders
from local bookshops
Reviews
Showing 1 - 2 of 2 reviews.
Review by Stromata
16/06/2015
Elizabeth Chatwin and Nicholas Shakespeare have produced a marvellous collection of the letters of Bruce Chatwin and are to be congratulated. Other reviews have rightly said that `Under the Sun' makes a good companion volume to Nicholas Shakespeare's biography, however if I had to choose only one then I would definitely want this book.For those of us who love Bruce Chatwin's writing `Under the Sun' is a bonus which reflects the many facets of the man - his erudition, pomposity, curiosity, charm, his ability to make friends with the most fascinating people and to irritate many others. The letters also show his restlessness, his chronic need to be on the move - but also his absolute dependence upon and love of Elizabeth, his wife.If I have one tiny criticism it is that the book lacks a `who's who' - he corresponded with so many people it was, at times, hard to recall where they all fitted in especially as I shall hopefully be dipping-in to it for many years to come.
Review by edwinbcn
16/06/2015
Under the sun. The letters of Bruce Chatwin is a very disappointing book, which tells the reader nothing much about Bruce Chatwin. The letters and postcards for this edition were selected and edited by Elizabeth Chatwin and Nicholas Shakespeare. Whilst Shakespeare is quoted saying that Chatwin "tells not a half truth, but a truth and a half", the same cannot be said of this volume of correspondance. It tells but half a truth, if not less. The selection of letters and the story that is told in the book is incomplete and biased.Under the sun. The letters of Bruce Chatwin consists of selected letters and post cards, with intermissions written by Elizabeth Chatwin, his widow, and Nicholas Shakespeare, his biographer. The collection starts with the earliest surviving correspondance, letters Chatwin wrote to his parents as a child in the decade between 1948 - 1958. For readers unfamiliar with the life of Bruce Chatwin, the biographical intermissions fill in the gaps, and describe Chatwin's career, at first as a staff member at Sotheby's, then as a journalist and eventually and a travel writer and novelist. From each period of his life, surviving letters are published.It is remarkable how little the letters tell us about the life of Bruce Chatwin. Almost all the letters are very superficial and do not talk about deeper issues of problem that Chatwin must have experienced in his life. Chatwin married at the age of 25, which is relatively early. While Nicholas Shakespeare has stated elsewhere that he would consider Bruce Chatwin mainly homosexual, the biographical descriptions in this volume reinforce the view that Bruce Chatwin put forward that he was bisexual. This collection of letters does not contain any letters with any of his homosexual friends, neither platonic nor sexual, and no correspondence with other sexual partners on issues related to sexuality of personal affairs. Elizabeth Chatwin and Nicholas Shakespeare write in a comment that no such letters have become available. This seems just a little bit too easy.The biographical comments in the book add information to the periods when Bruce Chatwin stayed in Australia and Argentina, to work on his two masterpieces of travel writing. These descriptions barely disguise that Chatwin abused the trust of his hosts and that he essentially plagiarized other people's ideas to write major portions of Songlines and In Patagonia.It is somewhat peculiar that Bruce Chatwin maintained closeted throughout the 1970s and 80s; this volume of correspondance does not give any clue why that is so. The fact that the Chatwins divorced, and Bruce Chatwin lived separately from Elizabeth Chatwin is mentioned as a fact, but none of the correspondance describes in detail which feelings and thoughts brought them together again. The fact that Bruce Chatwin contracted HIV and died from AIDS is but very fleetingly mentioned, almost obscured.Most of the letters in Under the sun. The letters of Bruce Chatwin are letters to and from Elizabeth Chatwin. While this seems natural for a married couple, the same fact becomes peculiar towards the end of Chatwin's life.Both Elizabeth Chatwin and Nicholas Shakespeare have separately written, respectively a Preface and an Introduction. It is not explained why they should act as co-editors, but it is said that with the publication it is hoped to keep Bruce Chatwin in the eye of the public. In his introduction, Nicholas Shakespeare does explicitely state that the editors had no other intention than to present Bruce Chatwin in a true light.However, the sincerity of that statement seems doubtful. In Under the sun. The letters of Bruce Chatwin, both the way in which the material was selected and presented, the reader feels that they are manipulated. There is a strong impression that Elizabeth Chatwin wishes to convey a certain image about Bruce Chatwin, obscuring or omitting material which does not fit the picture of the way she would like Bruce and possible herself remembered.Hopefully, eventually, more material will surface enabling future biographers to sketch a more complete portrait of Bruce Chatwin. Under the sun. The letters of Bruce Chatwin may eventually have a complementary function, for now it should not be read as the most authoritative or reliable document on Bruce Chatwin's life.