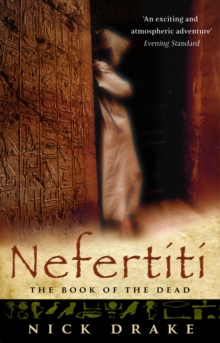 Description
Nefertiti is the most powerful, charismatic and beautiful Queen of the ancient world.
With her husband, Akhenaten, she rules over an Empire at the peak of its glory and domination.
Together, they have built a magnificent new city in the desert on the banks of the Nile.
They are about to host kings, dignitaries and leaders from around the Empire for a vast festival to celebrate their triumph.
But suddenly, Nefertiti vanishes. Rahotep is the youngest chief detective of the Thebes division; a 'Seeker of Mysteries' who knows about shadows and darkness, and who can see patterns where others cannot.
His unusual talents earn him a summons to the royal court.
Rahotep is given ten days to find the Queen and return her in time for the festival.
Success will bring glory - but if he fails, he and his young family will die ...Closely based on historical research, "Nefertiti" tells the hidden story of the crimes, mysteries and secrets of the dark game of power played out against the vast panorama of a society in revolution.
Information
Format: Paperback
Pages: 448 pages
Publisher: Transworld Publishers Ltd
Publication Date: 01/04/2007
Category: Crime & mystery
ISBN: 9780552152440
Free Home Delivery
on all orders
Pick up orders
from local bookshops
Reviews
Showing 1 - 1 of 1 reviews.
Review by mirrani
16/06/2015
This story, though called Nefertiti, is more about Rahotep, a Seeker of Mysteries. His purpose is to discover what has happened to the Queen, but she doesn't actually make an appearance until well into the book. Naturally "Rahotep" wouldn't sell as many copies, I'm sure. Though the tale is told as a first person narrative from Rahotep's diaries, the story does focus on Amarna, its king and queen and the changes that come about at the end of the time of the Aten.There were many times when I thought of this as an Egyptian Sherlock Holmes story, though not told as well as the iconic mysteries. The scenes are beautifully depicted and pull you in to the events as they unfold, but the mystery itself is not quite as brilliant, sometimes predictable and rather disappointing at the end when we realize there never was much Rahotep could have discovered in the first place. His role in the events seemed worthless in the end, but continued to be written as if there were still a job to do all the way to the last pages.An enjoyable, beautifully descriptive book that lovers of Egypt will probably pick up just for the reason of having one more book about one of the most famous periods in history. Don't look for ancient terms or historical perfection (there is much modern language that can throw you off) , just sit back and enjoy the ride along the Nile.