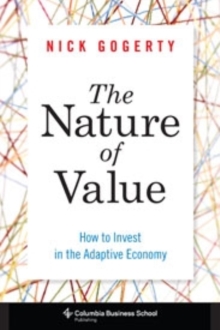 The Nature of Value : How to Invest in the Adaptive Economy
Hardback
Description
Using evolution as the template to understand growth, The Nature of Value takes a first-principles approach to explore the parallels between economic and ecological systems.
Not only does Gogerty show how value is born out of tiny sparks of adaptive innovation, but he also explores the full scope of the economy as a complex network.
He borrows from an array of disciplines-including anthropology, psychology, ecology, physics, sociology, and ethics-and, most revealing of all, examines how evolution's processes can help investors avoid risk and improve their allocation decisions.
Starting with a look at how innovation creates value for firms, Gogerty considers the economic niches where companies compete and explores how they can create defensive moats to enhance their ability to survive.
Throughout the book, Gogerty demonstrates how this ecological understanding of the economy can help allocators improve their performance, supporting his arguments with extensive data and years of practitioner experience from scientific, social, and economic disciplines. Gogerty's practical takeaways, couched in vivid explanations and accompanied by intuitive illustrations, help investors of all backgrounds gain fresh insight into the behavior of corporations and the economy in general.
Information
Format:Hardback
Pages:368 pages, <B>Figures: </B>99,, <B>Charts: </B>10,
Publisher:Columbia University Press
Publication Date:08/07/2014
Category:
ISBN:9780231162449