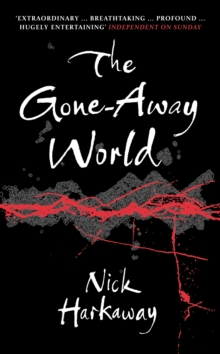 The Gone-away World
Paperback
Description
The Jorgmund Pipe is the backbone of the world, and it's on fire.
Gonzo Lubitsch, professional hero and troubleshooter, is hired to put it out - but there's more to the fire, and the Pipe itself, than meets the eye.
The job will take Gonzo and his best friend, our narrator, back to their own beginnings and into the dark heart of the Jorgmund Company itself.
Equal parts raucous adventure, comic odyssey and Romantic Epic, "The Gone-Away World" is a story of - among other things - love and loss; of ninjas, pirates, politics; of curious heroism in strange and dangerous places; and, of a friendship stretched beyond its limits.
But it also the story of a world, not unlike our own, in desperate need of heroes - however unlikely they may seem.
Information
Format: Paperback
Pages: 592 pages
Publisher: Cornerstone
Publication Date: 01/01/2009
ISBN: 9780099519973
Other Formats
EPUB from £4.99
CD-Audio from £25.65
Free Home Delivery
on all orders
Pick up orders
from local bookshops
Reviews
Showing 1 - 5 of 5 reviews.
Review by raycun
16/06/2015
Not as funny, exciting, or dramatic as it needs to be, or thinks it is. I wanted to like it, but it just got draggy.
Review by pgmcc
16/06/2015
I find it hard to start this review because there are so many facets to this book. I could say it's the story of some people and how they survive an apocalypse and describes the part they play in forming a new existence. I could say this story is about relationships; growing up; home; family; coming of age; self-knowledge; loyalty; right and wrong; endurance; war; globalisation; big business; yuppies; the little guy; the big guy; friendship; love; pig-powered electricity generators; ninjas and fun.It is all these things, and more.There are parts of this story where I saw layer upon layer of meaning. There was the straight story being told; there was the parallel with the gulf wars; there was the parallel with the war on Terror; there was the parallel with big business taking over the world; there was the parallel with the global economic crash and recession; there was the parallel with the individual struggling with personal trauma and loss. I could go on.Of course, Nick Harkaway would simply say, "What have you been smoking? I just wrote a story."I don't know how much of what I found in the novel was put there deliberately, and how much is due to my imagination, but I do know that Nick Harkaway has created a wonderful reading experience that is thought provoking, humorous, and just a wonderful read.Some reviewers have said it can be a tough read. I would say it's not so much a tough read, as a fast paced tale that covers a lot of ground and doesn't let you rest for a minute. It ducks and weaves across various threads of story and doesn't waste a single element in its whole telling.I will be getting and reading Nick's next book as soon as it is available; and hey, it's got elephants.
Review by FuguTabetai
16/06/2015
I picked up this book a while back, and once I started reading it I had a hard time putting it down. This was my first time reading anything by Nick Harkaway, and I found his writing style to be a bit verbose, but very refreshing. The setting is interesting; a broken world after a scientific disaster that allows the fantastic to leak into (or completely overrun) the world we are familiar with. The story isn't as much about the fantastic creatures and events, but about how people deal with things, and in particular, the protagonist and his circle of friends. There is also a very interesting comment on society and capitalism and the role of corporations.Also, ninjas. I really enjoyed the book, and in a way it reminded me of works by Haruki Murakami (one of my favorite authors) where there is some underlying fantastic element to life. It is much more obvious here, but I felt the same sense of an awakening wonder as I read.
Review by clfisha
16/06/2015
Amazing multi-layered dystopian fantasy. With Ninjas.A brilliant Frankestinian mesh of ideas and tropes. I mean we get a dystopian future to die for, ninjas, love triangles, the harsh reality of modern war, mimes, political satire, pirates, terrorists and freedom fighters, a variety of circus acts and murderous bees. Do I need I say anymore? I mean dystopian ninjas? Come on!Of course all these ideas would be nothing without the characters and plot to hold them together and Nick Harkaway writes brilliantly. He imbues everything with a wry humour and then smacks you with the heartfelt highs and lows and of humanity. This balance is everything; he can write tense, dramatic action sequences, quiet romantic moments, zany madcap escapades and horrible acts of war. The man is an alchemical genius.The characters are superb. Written in 1st person we have a fantastic protagonist: a funny, intelligent, self depreciating side-kick to his overly heroic best friend. Add a cast of a lifetime (don't worry it's not too much), all wonderfully portrayed, and you have a real gem.The story is a breath of fresh air, imaginative, fast moving and constantly challenging expectations. I mean what starts out as a zany band of heroes going to save the world, switches straight into memoir territory as we quietly (and grippingly) catch up to the present day and into the future. Of course this mucking about with your expectations could, I guess, be a problem because you will realise this book is about something else. There other minor problems. This being a 1st person means you really have to enjoy the company of the protagonist and all those brilliantly written ideas are packed so tight it's overwhelming and the initial start can seem slow. What this story needed was an evil, heartless editor to rip out some of good stuff but make a tighter plot. Although then again the build up is worth it so who I am to say?It's one of those books that when you finish and finally stop stuffing the words into brain in a madcap frenzy, pause and think and then smile at what Harkaway has managed to achieve. It's his bloody debut too. Highly recommended to everyone!
Review by GingerbreadMan
16/06/2015
This is the kind of book that might sound slightly more bonkers than it actually is when described. Because yes, these six hundred pages ARE filled with ninjas, pirate monks, college freedom fighters turned into porn stars, mutant bees, mysterious mimes with a political agenda, quarreling spice merchants and a doomsday weapon that just makes the enemy Go Away. And yes, this is a version of post-apocalypse where the only thing that keeps the scraps of humanity from being torn asunder by their own nightmares is the presence of a substance sprayed into the air from a huge pipeline, around which they all live. But Nick Harkaway's stroy telling talent is such that the all-over-the-place type of imagination here never falls into the trap of plain silliness. Rather, this is a pageturner dealing with themes like dignity, humanity and the price for freedom and safety. Funny at times, though,absolutely. But also moving, gripping, and ever so slightly creepy. Gonzo Lubitsch and his friend, our narrator, are part of a trouble shooter team, specialising in dealing with leaks on the Jorgmund Pipe, the backbone that's crucial to keep the monsters at bey and the slim "normal" zone liveable. But the leak they are set to deal with now is bigger than anything they've dealt with before – a raging fire at one of the main stations. As if that wasn't enough several of the towns in the area have had their population just anish without a trace. And right before borading the brand new trucks given to them as part of the assignment, our narrator gets a phone call – warning him not to take the job. But how could he stop larger than life Gonzo, the best friend he's lived in the shadow of his entire life?Despite not having the time to devour it like it deserves, I had a great time with this unusual and though-provoking brick. At one point towards the end I felt worried it would never manage to bring it all home in a satisfactory fashion. But then it does, steeply but without feeling stressed at all. My only minor complaint is that I would have wanted to know a bit more about some things, that just feels a little brushed over. In a book of six hundred pages, that's actually something in itself!