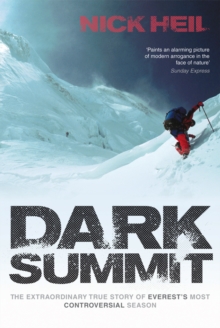 Dark Summit : The Extraordinary True Story of Everest's Most Controversial Season
Paperback
Description
Everest - the highest mountain in the world and the ultimate climbing challenge.
In 2006, 11 people died attempting to reach the summit, the most fatalities since 1996.
But unlike 1996, 2006 saw no surprise blizzard, only the constant dangers posed by unstable ice, merciless cold, thin air - and human nature.
Nick Heil tells the shocking true stories of David Sharp, a young British solo climber, who was passed by 40 mountaineers as he lay dying on the slopes of the mountain, and Lincoln Hall who was left for dead yet miraculously survived, and asks: What does climbing the world's highest peak really mean for those who take on the challenge? And how far will they go in their single-minded pursuit of the ultimate mountaineering prize?
Information
Format: Paperback
Pages: 304 pages, 4 maps, 1 x 8pp colour section
Publisher: Ebury Publishing
Publication Date: 01/03/2009
ISBN: 9780753515709
Other Formats
Hardback from £14.55
EPUB from £4.99
Free Home Delivery
on all orders
Pick up orders
from local bookshops
Reviews
Showing 1 - 4 of 4 reviews.
Review by riverwillow
16/06/2015
Nick Heil has worked hard to try and write a balanced account of the events during Everest's 2006 season and to try and explain just why so many experienced and inexperienced climbers make the attempt to climb to the top of the world. This is not a romanticised account and, unlike so many, Heil does not point fingers or try and sensationalise events. Heil effectively conveys just how hard life it is to rescue anyone at altitude where everyone's brain is oxygen deprived and perception is at best foggy.
Review by davilah
16/06/2015
Having read many books on Everest, K2 and mountaineering in general, i found this a truly enjoyable read...Heil is a master storyteller and this book is a must read if you enjoyed Into Thin Air, which chronicled the 1996 disaster in the same mountain.
Review by raducernea
16/06/2015
I do hike and climb, even do some mountaineering, with some 3500+ peaks in the Alps, so far far away from what Himalayas mean. Doing this kind of stuff myself, at a totally different level I understand what to summit fever can be and what drives people to the high mountains. I bought the book in an airport and a 4 hours flight passed unbelievably short. I was hooked. I still didn't finish the book, but reading it while watching Discovery Channel's "Everest - Beyond the Limit" series (S01 being about the same Himex expedition described in Nick Heil's book) really helps you understand what's there. I like not only the description of the 2006 events, but also the additional information (like the high altitude sickness, the info about Malory and Irvine expedition in 1924, the brief history of Everest climbing.
Review by jan.fleming
16/06/2015
Everest - the highest mountain in the world and the ultimate climbing challenge. In 2006, 11 people died attempting to reach the summit, the most fatalities since 1996. But unlike 1996, 2006 saw no surprise blizzard, only the constant dangers posed by unstable ice, merciless cold, thin air - and human nature.
Nick Heil tells the shocking true stories of David Sharp, a young British solo climber, who was passed by 40 mountaineers as he lay dying on the slopes of the mountain, and Lincoln Hall who was left for dead yet miraculously survived, and asks: what does climbing the world's highest peak really mean for those who take on the challenge? And how far will they go in their single-minded pursuit of the ultimate mountaineering prize?
This book opens the door into the darkest recesses of the human mind and shows the extraordinary determination, mental strength and overriding will to survive that we as humans are capable of.

Every year climbers from all over the world are drawn to Mount Everest in an attempt to reach the summit. There have been many tragedies on Everest but none created as much controversy and soul searching amongst the climbing community as that of British climber David Sharp during the 2006 climbing season during which 11 people died making it the second deadliest season on record.

Author Nick Heil draws a detailed account of the events of 2006 that took place during that fateful season, including David Sharp's death, the astonishing story of Lincoln Hall and looks the at the ethical questions being asked as increasing numbers of people who shouldn't be within a 1000 miles of Everest are allowed to climb…for a fee.

Nick Heil doesn't point the finger at anyone or any or organisation but allows the reader to come to their own conclusions regarding the "hobby climbers" who should never have been allowed on the mountain in the first place.

Thought provoking,insightful and heartbreaking…



Also by Nick Heil