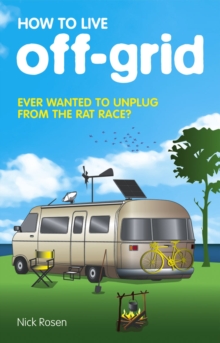 How to Live Off-Grid
Paperback
Description
Off-grid: a place, building or person without mains water or power.
Static or mobile - in a house or a hut, a boat or a camper van - to live off-grid is all about loosending the ties that bind us to teh fmailiar world of commuting, mortgages, no time and fast food, in order to rediscover our place in the natural world.
Complete with camper van, Nick sets off around the UK to find off-grid heaven and meet people who are living the dream.
Along the way he runs into backpackers and businessmen, radical hermits and right-wing survivalists - and plenty of ordinary working-parent families too.
Sincere but irreverent, this is Nick's guide to avoiding pitfalls, to finding solutions (and some brilliant gadgets) as he strives to perfect the skills of this practical, freewheeling kind of self-sufficiency. 'Timely and highly readable' Sunday Telegraph ' Nick Rosen has caught the zeitgeist.' The Times
Free Home Delivery
on all orders
Pick up orders
from local bookshops