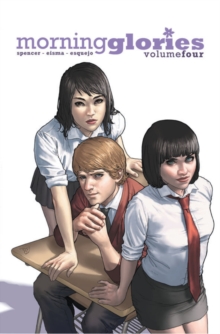 Morning Glories Volume 4: Truants TP
Paperback
Description
Still reeling from the climactic events of "P.E.," the Glories findthemselves lost in time and space, confronted by a new group of students whomight be even more dangerous than the faculty themselves - the truants!Questions are answered and new mysteries emerge as Season One comes to ashocking end!Collects Morning Glories #20-25.
Information
Format: Paperback
Pages: 216 pages
Publisher: Image Comics
Publication Date: 07/05/2013
Category: Horror & ghost stories
ISBN: 9781607067276
Free Home Delivery
on all orders
Pick up orders
from local bookshops
Reviews
Showing 1 - 2 of 2 reviews.
Review by fyrefly98
16/06/2015
Summary: The new students at the Morning Glory Academy have survived their first semester... this far. But now they're all separated from each other, not to mention scattered through time, and they are facing something much more dangerous than anything they've encountered so far: a group of former Morning Glory students known as the Truants.Review: So I know I said I was going to give up on Morning Glories until more of it had been published, so that I could read it straight through, and maybe then I would have a prayer of understanding what the hell was going on. But this volume promised that as the end of "Season One", this volume would answer all of our questions, so I got lured into reading, even though I know I should stick to my original plan and wait. So, two things. First: I get what the Buffy comics are doing with seasons, but it seems weird to me to apply that model here, especially since this issue really didn't feel like the end of a story arc. Which actually brings me to my second point, which is that all of the promised answers? Did not materialize. I mean, yes, some things made some more sense after this volume, but all of the big questions, I am still pretty much in the dark. This series is interesting, and (as I've been thinking) would definitely benefit from a re-read. But while this volume was entertaining enough, it wasn't as satisfying as I was hoping it would be. 3.5 out of 5 stars.Recommendation: The series barely makes sense when it's read in order, let alone if it were read out of order. But Lost fans should like the series as a whole... and have the requisite patience when it comes to waiting for answers.
Review by wanderlustlover
16/06/2015
I continue to be utterly enamored, amazed, confused and blown away by this series. It's like Lost meets Fringe meets every time traveling, time-effecting show/story meets every single group of confused, scatted kids with secrets. I read Vol. 3 &amp; Vol. 4 together right back to back so they are getting one big review together, because pretty much the storyline is all blurred together now. <br/><br/>I have so many feelings about Abraham &amp; Ike reveals, plus Abraham vs. The Academy (and the fact there are kids being trained in each for something, for each other). The whole allusion to Job was amazing. The continual spin of the Head Mistress vs. Her sisters (and who is on whose side, whether good is something you say or something you do). All the display's of "Faith" this time, with the hands and with the fire in a classroom were amazing touches. <br/><br/>The Casey story, back and forward, and back again, was amazing (and I hope Vol. 5 takes us back to her New York part, too). Someone needs to tell me if the thing about Zoe is for real-for real, because we've totally had people come back from worse already? Jade, both young and old, continues to be the most amazing all around. I totally called the second to last page of Vol 4 and who had rigged everything we've seen and everything that needs to be done: Gold Star me. <br/><br/>I'm wanting more issues already, but I must wait hopefully.