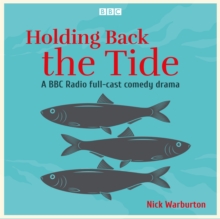 Holding Back the Tide : A BBC Radio full-cast comedy drama
eAudiobook MP3
Please note: eAudiobooks can only be purchased with a UK issued credit card.
Description
Ronald Pickup, Paul Ritter and Kate Duchene star in Nick Warburton's comedy about one community's attempts to resist change
When Richard and Clare Wells inherit a clifftop house in Yorkshire, they also inherit a sitting tenant, John Hector, who treats their home as his own and the local town as his own personal fiefdom. But the sea is eroding the land, and John is intent on stopping them all from being evicted, so the Wells' reluctantly embrace him as an ally. As he entangles them in his conservation battles, Clare and Richard find themselves drawn into the Breck Howe Preservation Society, an unlikely group attempting to defend their town against the worst ills of modernity. Their lives will never be the same again...
North meets South in this comedic clash of cultures, written by award-winning dramatist Nick Warburton. Ronald Pickup stars as John Hector, with Paul Ritter as Richard and Kate Duchene as Clare.
Written by Nick Warburton
Directed by Sally Avens
First broadcast BBC Radio 4, 28 January 2016 (The Vauxgarth Pig), 11-25 August 2017 (Series 1), 16 November-14 December 2018 (Series 2)
Cast
Richard Wells - Paul Ritter
Clare Wells - Kate Duchene
John Hector - Ronald Pickup
Lux - Michelle Asante
Penrith - Chris Pavlo
Trafford/Hugh - Gerard McDermott
Mrs Cardabbon - Susan James
Estate Agent - Caolan McCarthy
Ticket Lady - Kerry Gooderson
Guard - Bob Blythe
Tiffany - Louise Brealey
Librarian - Chetna Pandya/Liam Lau Fernandez
Mrs Briggs of Events - Sanchia McCormack/Elizabeth Counsell
Headley - Philip Fox
Norwegian Herring Enthusiast - Simon Ludders
Ralph Bell - Sean Murray
MC/Trevor Butt - Tony Turner
Robust Betty - Emma Handy
Rude Girl/Brandi - Saffron Coomber
Barb/WPC - Jeannette Percival
Mikey/Surly Reader/Tourist - Cameron Percival
Chucker/A Heavy - Don Gilet
Anthony/Wayne/Seasider - Lewis Bray
Himself - Jonathan Agnew
Information
Format: eAudiobook MP3
Run-time: 0 hours 0 mins
File size: 0MB
Publisher: BBC Audio
Publication Date: 16/04/2020
ISBN: 9781529126693
Download and listen
eAudiobook