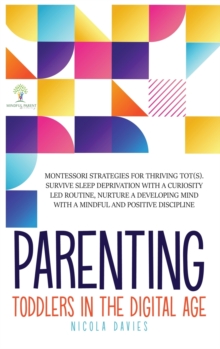 Parenting Toddlers in the Digital Age : Montessori Strategies for Thriving ToT(s). Survive Sleep Deprivation with a Curiosity Led Routine, Nurture a Developing Mind with a Mindful and Positive Discipl
Hardback
Description
Are you looking for effective strategies to discipline today's toddlers to let them thrive and reach their full potential despite all the digital temptations and distractions? Are you also looking to find a way to keep yourself mindful and positive with your children while sleep deprived and juggling between the many demands of life? Would you like to feel equipped with the right knowledge and activities that will allow you to think strategically about your toddler's development? Would you like to be able to follow their curiosity by providing tailored activities for every stage of their toddlerhood without continually investing in new toys? If yes, continue reading because this is the right book for you!
This book tries to combine two very important aspects of every parent's life: a stimulating home environment for your young children to thrive in by following the Montessori method and, your mental sanity while completing everyday adult chores without feeling missing out on your life by applying a Mindful approach. You may have heard about Montessori schools when it was reported that little Prince George went to one or when the media talked about the biographies of many famous people like Jeff Bezos of Amazon. Well, the Montessori Method has been around for many years. It has been chosen by the middle class, the elite, even by the poorer sectors of society. There are public Montessori schools, private, and elite Montessori schools. All of them follow the same core principles that you can apply at home!
On the other hand, the Mindful approach to parenthood is instead a very recent and groundbreaking practice that reminds parents about the importance of looking after themselves as adults. It provides many tips and suggestions about how to become that parent that you feel proud of, to be happily involved in your kid's growth notwithstanding all the strains put on us by everyday life and without having to leave your children unattended in front the TV or other digital devices. After all, being a positive and mindful parent while spending time with your children, even for just half hour at the end of the day, is increasingly recognized as the foundation for every healthy parenting relationship that allows children to grow joyful, resilient and confident in their skills.
This book covers:
* The Top 10 Challenges of Being a Parent in the Digital Age
* The 7 Steps to Peaceful and Mindful Parenting
* Boredom and Screen Time
* How to be a Montessori Parent
* 'Montessori Schemas' and Toddlers 'Sensitive Periods'
* Montessori Discipline at home
* How to introduce activities
...And much more!
Do you want to happily and mindfully participate in your child's development while allowing their brain to develop properly through the Montessori Method? Click here to buy the book!
Information
Format:Hardback
Pages:226 pages
Publisher:Discourse Maestro Ltd
Publication Date:07/10/2020
Category:
ISBN:9781801112130
Other Formats
Paperback / softback from £17.75