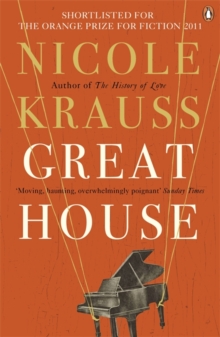 Description
Shortlisted for the Orange Prize for Fiction 2011, Nicole Krauss's Great House is a haunting story that explores loss and memory.
In New York a woman spends the night with a young Chilean poet before he departs, leaving her at his desk.
Later, he is arrested by Pinochet's secret police. . . In north London, a man caring for his dying wife discovers a lock of hair that unravels a terrible secret. . . In Jerusalem, an antiques dealer reassembles his father's study plundered by Nazis.
One item remains missing. . . Spanning continents and decades, weaving an intricate web of its characters' lives, Great House tells a soaring story of love, loss and survival against the odds.'The History of Love was very good indeed.
Great House...is even better. A heartbreaking meditation on loss and memory and how they construct our lives' Guardian'Full of mystery and suspense, building towards one og th great climaxes in contemporary fiction.
It is hard to imagine a better book of fiction being published this year...one of the finest writers of our time' Jewish Chronicle'Bewitching, mysterious and deeply moving.
One of 2011's must-reads' Harper's BazaarNicole Krauss is an American bestselling author who has received international critical acclaim for her first three novels: Great House, The History of Love (Shortlisted for the Orange Prize for Fiction 2006 and winner of the 2006 Prix du Meilleur Livre Etranger) and Man Walks into a Room (shortlisted for the LA Times Book Award), all of which are available in Penguin paperback.
Information
Format: Paperback
Pages: 304 pages
Publisher: Penguin Books Ltd
Publication Date: 01/04/2011
ISBN: 9780670919345
Other Formats
EPUB from £2.99
Paperback from £7.65
Free Home Delivery
on all orders
Pick up orders
from local bookshops
Reviews
Showing 1 - 2 of 2 reviews.
Review by 1Owlette
16/06/2015
Haunting, evocative but in some ways problematically opaque exploration of memory, trauma and loss, and the role which physical objects can play in these experiences.Perhaps like a previous reviewer, I was left uncertain as to whether the book -- memorable and moving -- at the same time constituted less than the sum of its parts, which if the case might be particularly appropriate to a novel dedicated to the subject of what is lost and missing, and the gaps and absences in people's lives. On the other hand, I personally was left feeling a little obtuse, as if, like the husband who narrates one strand of the novel, I too was left outside shivering and slightly blank outside a deep but unaccessed pool of content and secrets. This may well have been the intention, but at the same time did dilute the impact of an extraordinarily accomplished work, for me personally as a reader. Although engrossed and impressed at the time, Great House, over the following days, left less impression on me than I had expected. Nonetheless, a rich and extraordinary work.
Review by Luli81
16/06/2015
If you are looking for a light and simple story where there's a plot developed in the classic structure, this is not your book.This is a tough novel, it requires guessing and work on your part, it's like a puzzle that somehow the reader has to put together. And for me, what makes it a great reading, is that you are not conscious of getting close to solving that puzzle, but when you turn the last page everything makes sense in a strange and singular way, like remembering your own memories, through flashes and blurred images.Four seemingly unconnected stories in different times and places with only a "desk" in common, as if that desk is the only witness of the lives that cross its path, witness of sorrow, loneliness and loss. And, of course, of love. And as a lot of the characters that appear in the stories are writers or poets, I'd say this book also emanates love for literature and the art of composing in a very natural way.A glimpse of the stories: a fifty year old writer regretting her chosen loneliness remembers a one night stand with a Chilean poet who later is murdered by Pinochet Regime. An old lawyer recently widowed struggles to communicate with one of his sons, with whom he's always felt estranged but whom he loves and hates deeply at the same time. An old writer who takes care of his sick wife discovers secrets from her past he isn't ready to digest. Two atypical brothers with a strange bond struggle trying not to disappoint their distant father. The voices in the stories are poignant and evocative. I found myself rereading twice some paragraphs because of the beauty of some reflexions and a distinct force behind them. The writing style is sublime, the stories flow as in memories, there are no explicit facts or a lineal storyline, it's mostly feelings attached to past times which come like waves, they flow into your system and you finally forget it's a character talking, it could be your own conscience speaking.I also think this is not a book for everybody and that it can become frustrating not knowing where all this rambling is leading, but if you let your mind free of constraint, you'll experience life in its core. Because that's what this book is about: life. And as I have read in some other reviews I wouldn't qualify this novel as oppressing or pessimistic, I'd say it's realistic. Won't we all have to deal with loss and frustration and death some time in our ives? How will our minds process those feelings? You've got the answer in this book. It's your choice to get it.