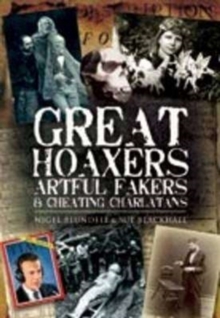 Great Hoaxers, Artful Fakers and Cheating Charlatans
Hardback
Description
The slogan of the successful huckster is: 'There's a sucker born every minute'.
No catchphrase better describes the art of the hoaxer, faker, cheat and charlatan -- a fascinatingly fraudulent assembly of whom are gathered in this book.
Some are suave and charming; others have far less appealing characteristics.
But every one of them displays a single-minded determination to get one over on the unwary and the unsuspecting.
Among the phonies and philanderers who had a field day at the expense of others were: the fake pilot who conned his way into airline cockpits (and into the beds of countless ladies along the way); the author who fooled publishers with the 'biography' of a man he'd never met; the fake royal who falsely assumed an illustrious lineage, and the phantom pianist whosemagical music was entirely the work of others.There were also art forgers who delighted in conning the cognoscenti. And there were those with more mundane ambitions -- to be loved, to be rich or simply to be respected.
Together they make up an astonishingly variedgallery of fakers, forgers, charlatans and cheats, with a few hoaxers and pranksters practising their tricks along the way. Various motives link the disparate bunch of characters assembled in this book but they have one thing in commons the astonishingly brazen way in which they have pulled off their fantastic fakery while pulling the wool over the eyes of the rest of us!
Information
Format: Hardback
Pages: 224 pages, 30 Illustrations. Text and Plates
Publisher: Pen & Sword Books Ltd
Publication Date: 16/07/2009
Category: True crime
ISBN: 9781844680634