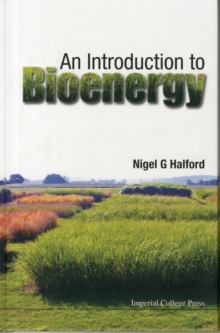 Introduction To Bioenergy, An
Hardback
Description
The bioenergy industry has grown rapidly since the turn of the century as politicians and energy producers have sought alternatives to fossil fuels.
This has been driven by the growing consensus that carbon dioxide released during the burning of fossil fuels is causing global warming and climate change and the fact that fossil fuel reserves are finite and alternatives will have to be found.
The expansion of the industry also came after a sustained period when farm prices were at historically low levels and the prospect of creating additional markets for agricultural produce was an attractive one.
The bioenergy industry now represents a major market not only for established crops but also for novel crops and a variety of waste products.
Its success, however, has led to a fierce 'food versus fuel' debate on the ethics of using food crops for energy production.
This book provides a comprehensive introduction to bioenergy, covering liquid biofuels (bioethanol and biodiesel), biomass and biogas.
It describes the feedstocks that are used, including established and potential crops as well as waste, the production processes, the products, the political interventions to support the industry and the impacts the industry has had on markets.
It provides information on how this sector is developing and where it may be headed, and aims to give a balanced view on the arguments for and against the exploitation of different bioenergy sources.
It would make an excellent entry-level textbook on this fascinating and rapidly changing topic, but is also accessible to the non-expert who wishes to have an overview of an industry that is already having profound effects on agricultural and energy markets around the world.
Information
Format: Hardback
Pages: 164 pages
Publisher: Imperial College Press
Publication Date: 13/03/2015
Category: Botany & plant sciences
ISBN: 9781783266234
Other Formats
Paperback / softback from £27.85
Also by Nigel G. Halford