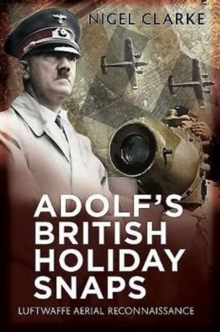 Adolf's British Holiday Snaps : Luftwaffe Aerial Reconnaissance Photographs of England, Scotland and Wal
Paperback / softback
Description
After the fall of France and the allied retreat from Dunkirk, Hitler proposed the planned invasion of Great Britain.
A secret aerial reconnaissance of the United Kingdom (and all of Europe) had been undertaken by the Luftwaffe several years prior to the outbreak of war.
The images were used in the detailed planning for the invasion of the United Kingdom.
After the collapse of the Third Reich the great race began to salvage the secrets of Hitler's huge intelligence gathering operation.
The RAF and Army intelligence scoured the remains of the Reich desperately searching for the library of the "Zentral Archiv Der Fliegerfilm." The Luftwaffe archive was of extreme value both to the West and the newly emerging super power of the Communist Soviet Union, under the dictatorship of Stalin.
One power held the secrets of both and competing Soviet and Allied intelligence searched disparately the debris of the Third Reich for aerial library.
In June 1945 a British intelligence unit stumble upon 16 tonnes of reconnaissance pictures, dumped in a barn, at "Bad Reichenhall" deep in the forests of Bavaria.The original Luftwaffe reconnaissance archive had been destroyed at the end of the war, and this discovery was an incomplete German Army Intelligence copy. With great secrecy the documents were immediately evacuated back to England and by July 1945 twenty-three plane loads of documents had been removed from the chaos of Germany, to a special RAF intelligence clearing house at Medmenham.
The entire archive was methodically recorded, sorted and classified as top secret and disappeared from public view.
There were no announcements and very few were aware of this major discovery and the archive was locked away in a secure vault with access classified and restricted to the intelligence services.
The records discovered by the allies remained classified till 1984 although parts of this vast archive escaped into the packs and luggage of returning soldiers, as souvenirs.
It is from this source that Nigel Clarke slowly acquired images and amassed a collection of over 1000 pictures of the UK taken by the Luftwaffe.
Information
Format: Paperback / softback
Pages: 224 pages
Publisher: Fonthill Media
Publication Date: 28/06/2015
Category: Photographs: collections
ISBN: 9781781551196
Free Home Delivery
on all orders
Pick up orders
from local bookshops