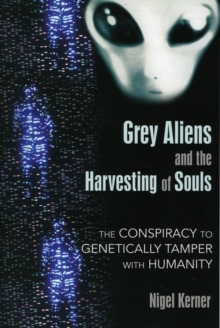 Grey Aliens and the Harvesting of Souls : The Conspiracy to Genetically Tamper with Humanity
Paperback / softback
Description
In 1997 Nigel Kerner first introduced the notion of aliens known as Greys coming to Earth, explaining that Greys are sophisticated biological robots created by an extraterrestrial civilisation they have long since outlived.
In this new book Kerner reveals that the Greys are seeking to master death by obtaining something humans possess that they do not: souls.
Through the manipulation of human DNA, these aliens hope to create their own souls and, thereby, escape the entropic grip of the material universe in favour of the timeless realm of spirit. Kerner explains that genetic manipulation by the Greys has occurred since biblical times and has led to numerous negative qualities that plague humanity, such as violence, greed and maliciousness.
Racism, he contends, was developed by the aliens to prevent their genetic experiments from being compromised by breeding with others outside their influence.
Examining historical records, Kerner shows that Jesus, who represented an uncorrupted genetic line, warned his disciples about the threat posed by these alien interlopers, while Hitler, a pure product of this alien intelligence, waged genocide in an attempt to rid Earth of all those untouched by this genetic tampering.
Despite the powerful grip the Greys have on humanity, Kerner says that all hope is not lost.
Greys exist wholly in the material world, so if we follow the spiritual laws of reincarnation and karma, aiming for enlightenment and rising above the material - a state the Greys are unable to reach - we can free ourselves from their grasp. * Explains how the Greys' quest to capture human souls appears in the historical record from biblical times* Explains how the phenomenon of racism is a by-product of their genetic tampering
Information
Format: Paperback / softback
Pages: 592 pages
Publisher: Inner Traditions Bear and Company
Publication Date: 19/01/2010
Category: UFOs & extraterrestrial beings
ISBN: 9781591431039
Free Home Delivery
on all orders
Pick up orders
from local bookshops