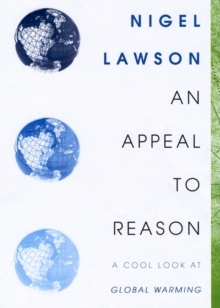 An Appeal to Reason : A Cool Look at Global Warming
Paperback
Description
In recent years, sensational warnings about climate change have dominated the headlines.
In this hard-hitting response to the scaremongering of climate alarmists, Nigel Lawson, former Chancellor of the Exchequer and Secretary of State for Energy, argues that it is time for us to take a cool look at global warming.
Lawson carefully and succinctly examines all aspects of the global warming issue - the science, the economics, the politics and the ethics - concluding that conventional wisdom on the subject is deeply flawed.
He asserts that, even if the majority view of the science is correct, the proposed solution to the problem would be more damaging than the threat it has been designed to avert - and, in any case is, for very good reasons, not politically attainable.
Insightful, brilliantly reasoned and thoroughly researched, this is a much-needed corrective to the barrage of hype and spin surrounding a subject that affects every one of us.
Free Home Delivery
on all orders
Pick up orders
from local bookshops
Also by Nigel Lawson