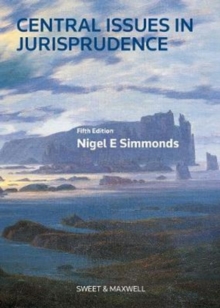 Central Issues in Jurisprudence : Justice, Law and Rights
Paperback / softback
Description
Central Issues in Jurisprudence is a clear introduction to the major theories and arguments which currently dominate discussion in jurisprudence.
Readers will benefit from the author#s ability to make the subject accessible, including the works of the foremost legal theorists, including Rawls, Nozick, Finnis, Hart, Dworkin and Fuller.
This text is the ideal starting point for anyone who wants to get to grips with this demanding but rewarding subject.
Information
Format: Paperback / softback
Pages: 354 pages
Publisher: Sweet & Maxwell Ltd
Publication Date: 21/02/2018
Category: Jurisprudence & philosophy of law
ISBN: 9780414054912