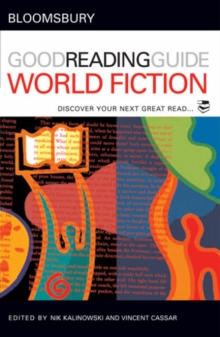 The Bloomsbury Good Reading Guide to World Fiction : Discover Your Next Great Read
Paperback
Description
Reading, like travelling, takes you on a journey of discovery into new places, cultures and ways of living.
This book brings those two worlds together. It is a literary exploration of global proportions, a rich survey of the finest novels set or written in other countries.
Hundreds of titles are featured from every continent and you can browse by region, city or travel related theme.
Whether you are travelling abroad or simply expanding your range of reading, this guide will enable you to see the world through the eyes of some the finest foreign writers.
Nik Kalinowski and Vincent Cassar are two booksellers and writers who have applied their passion for foreign fiction to present their best picks from the thousands of titles available.
The guide includes the very best world fiction that has stood the test of time from 1900 onwards.
Arranged by continent, then by country, key titles are described, followed by read-on suggestions.
You can also browse by major cities or travel related topic.
This guide is a starting point for your own literary journey through culturally rich and diverse landscapes.
Information
Format: Paperback
Pages: 384 pages, map
Publisher: Bloomsbury Publishing PLC
Publication Date: 24/09/2007
Category: Literary reference works
ISBN: 9780713679991
Free Home Delivery
on all orders
Pick up orders
from local bookshops
Reviews
Showing 1 - 1 of 1 reviews.
Review by StevenTX
16/06/2015
Among the many "books on books" available, the <i>Good Reading Guide to World Fiction</i> fills a very useful niche. It is organized geographically based upon the setting of the work, not the author's nationality. This allows you to locate works of fiction about a particular country, regardless where the author was originally from.The book is organized by continent, and within each continent by region. Many countries have their own section. For example, there is a section on West Africa, and within it a section just on Nigeria. Major cities have their own lists. There are also separate topical lists on travel-related subjects such as road novels, sea voyages, novels about food, etc.Within each section there are 1-4 "Key" works. These have summaries as long as a full page. Then there are a dozen or so "Read on" listings with 2-3 lines of description each. The books selected are all prose fiction, mostly novels with a few short story collections and anthologies.The editors used a cutoff date of 1900, so every work listed here was published in the 20th century or later. They are mostly literary fiction, with some popular fiction and genre works. Many of the titles are familiar as classics or as recent winners of literary awards. The editors point out that they picked only books that are available in English translation and should be easy to find, new or used. My selections might have been different in some cases, but I see nothing to complain about in the books that were selected or how they are organized.I did notice a couple of errors. For example, <i>Look Homeward, Angel</i> by Thomas Wolfe is set in North Carolina, but the book says South Carolina. There are also some spelling and typographical errors that suggest careless editing. So one might want to check other sources before plunging into a book based solely on its being listed here. But, overall, the <i>Good Reading Guide to World Fiction</i> should be a welcome addition to the reference shelf of literature enthusiasts and travelers.