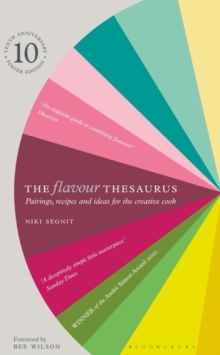 The Flavour Thesaurus
Hardback
Description
Ever wondered why one flavour works with another? Or lacked inspiration for what to do with a bundle of beetroot?
The Flavour Thesaurus is the first book to examine what goes with what, pair by pair.
The book is divided into flavour themes including Meaty, Cheesy, Woodland and Floral Fruity.
Within these sections it follows the form of Roget's Thesaurus, listing 99 popular ingredients alphabetically, and for each one suggesting flavour matchings that range from the classic to the bizarre.
You can expect to find traditional pairings such as pork & apple, lamb & apricot, and cucumber & dill; contemporary favourites like chocolate & chilli, and goat's cheese & beetroot; and interesting but unlikely-sounding couples including black pudding & chocolate, lemon & beef, blueberry & mushroom, and watermelon & oyster.
There are nearly a thousand entries in all, with 200 recipes and suggestions embedded in the text.
Beautifully packaged, The Flavour Thesaurus is not only a highly useful, and covetable, reference book for cooking - it might keep you up at night reading.
Information
Format: Hardback
Pages: 400 pages
Publisher: Bloomsbury Publishing PLC
Publication Date: 21/06/2010
Category: Reference works
ISBN: 9780747599777
Free Home Delivery
on all orders
Pick up orders
from local bookshops
Reviews
Showing 1 - 5 of 7 reviews.
Previous | Next
Review by wandering_star
16/06/2015
This is a book that I've been dipping into at regular intervals for the last 18 months or so, and I am very sorry to have come to the end.The idea is simple: take a hundred different foods or flavour categories (such as 'chocolate', 'cumin', 'blue cheese') and describe how they work together, and why - with examples from cuisines ranging from French and Italian to Thai, Filipino, New England-ish and Curacao-an.The execution is brilliant, not least because of Segnit's ability to come up with unexpected but vivid and funny metaphors: overripe blackberries "dissolve in your grasp like a teenager's handshake", pairing asparagus and peanut is "as incongruous as playing darts in a ballgown".But more than this, Segnit is enthusiastic, knowledgeable, prepared to try all sorts of combinations, and - like any proper foodie should be - not at all snobbish about the food as long as it tastes good. As well as mentioning great meals she's had in internationally famous restaurants, she credits a pasty she ate in a French motorway cafe and even "one of my husband's signature dishes... simply empty a packet of salted peanuts into a bag of salt and vinegar crisps, clench the bag shut and shake. Mysteriously more delicious than it should be. Good with lager".She's also good at explaining why things work together. "Lamb and apricot both have an affinity with sweet spices, and while their sharpness cuts through the lamb's fattiness, the intense sweetness of the dried apricots throws that lamb, spices and almonds, all very sweet themselves, into a far more savoury light, making the meat taste meatier".Some of the entries include recipes, others include recommended brands or varietals of fruit or veg. My copy is now bristling with post-it notes and folded down pages. But I think that this is a book that could be enjoyed by someone without any intention of actually cooking, simply for the pleasure of the writing.
Review by Schopflin
16/06/2015
One of the best food writing books I've read. I hadn't expected to want to read it cover to cover, but the descriptions of flavour combinations are so inspiring, the writing so amusing and there's so much interesting information that I didn't want to put it down when I started to browse.
Review by Mi-chanChelle
16/06/2015
One of the most useful, carefully put together and completely enjoyable guides to the kitchen. UK version is somehow frighteningly better than the US edition.
Review by wyvernfriend
16/06/2015
I originally borrowed this from the library, but found myself consulting it so often that I just had to buy it!
Review by SarahEHWilson
16/06/2015
I cannot even begin to express my passion for this book. I saw it a friend's house and was instantly overcome with covetousness. I got a copy for myself ASAP and read it straight through, like a novel. In fact, I was sorrier when this book ended than most of the new novels I'd read in the past five years. Many of the entries are like flash fiction, stories in miniature. Plus the sheer brilliant, arbitrary concept behind it. Why those flavors and not others? They reflect a British-with-global-outlook point of view. And why not? The wheel reminded me of premodern attempts to organize the world that look quaint to us now. Actually, this book gave me new respect for those ancient ways of organizing information--humans do work in intuitive ways that do not follow the strict lines of science. I was immensely gratified to find flavor combinations that I had already discovered though, on some level, thought I was odd for liking so much (e.g. carrot + juniper), and then found other combinations that I'd never thought of before that turned out to be sensational (asparagus + truffle, blackcurrant + almond, rhubarb + lamb, Sauternes + roquefort). One word of caution: I've found the proportions in the cake recipes to be unreliable. I'd suggest using the flavor combination but making a cake according to a recipe you already use.