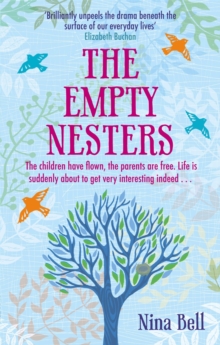 The Empty Nesters
Paperback
Description
Clover Jones and Laura Dangerfield have been best friends since their children were born.
Along with Clover's stylish, powerful friend, Alice, they share holidays, sleepovers, school runs and childcare.
They're like one big family. But all families have their secrets. When the children leave home, Clover and Laura's lives and marriages change forever, and the old rules on love and loyalty no longer apply. And when Alice decides she wants what they've got, Clover and Laura have to find out who they really are.
Without the children, can their marriages - and friendship - survive?
Information
Format: Paperback
Pages: 384 pages
Publisher: Little, Brown Book Group
Publication Date: 01/09/2011
ISBN: 9780751543667
Free Home Delivery
on all orders
Pick up orders
from local bookshops
Reviews
Showing 1 - 1 of 1 reviews.
Review by jolzyn
16/06/2015
I read all Nina Bell's earlier books and found myself to be frustrated when i could get hold of a copy of Nina's book in the form of ebook. In fact, i have been searching for sometime now until i stumbles over Booksonboard, and i remember how happy i was when i found out i can actually purchased it ;) I like Nina's writing as it carries message that is close to our hearts and this one is not excluded. This time around, Nina write about old age and what happen to those when they retired.The story centred around their person, Clover, Laura and Alice who all their childrens have leave home and found themselves directionless especailly Clover. She is so used to be incharge and have all the times in the day being filled with activities related to her children and with them gone now, she have too much times in hand that she doesnt know what to do. Laura, on the other hand, who placed all her attention to her only son, found herself to be lonely and when her husband was diagnosed with cancer, she found herself blaming ownself for the diagnoses as she fells that she failed as his wife while Alice, a single mother is a selfish and "user" of people's kindness and seems to want what the other two friend is having.The story centre about how they cope with the loneliness and struggles in trying to adapt to their new life without anymore burden from their childrens. Among the characters, i find myself to be able to relate to Laura the most. As a mother, it is difficult for us to let go of our child and let them decide for the fear that they make the wrong decision. This is also what Laura is fear off. Wanting for the best for her child have make him rejecting her affection and i really feel bad for her. I couldnt help wonder whether Hayden will be doing that to me when the time comes; whether my attention spend on him will try him away from me.. Reading this book somehow have provide me an insight of what i should be doing ("the right thing") when the time comes. Overall, this book is really interesting to read and one may find the insight that is much needed for them to understand when and how to let go of their children.