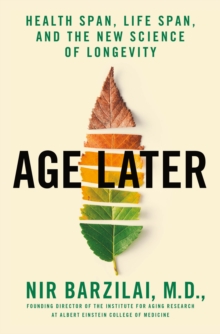 Age Later : Secrets of the Healthiest, Sharpest Centenarians
Hardback
Description
Nir Barzlai, M.D., founded the Institute for Aging Research at the Albert Einstein College of Medicine over twenty years ago.
His most fascinating study features a patient population of 600 centenarians - individuals who maintain active lives well into their 90s and 100s - and, more importantly, reached that milestone never having experienced the so-called big four: cardiovascular disease, cancer, diabetes and cognitive decline. Dr. Barzlai identified three clusters of genetic mutations - connected to levels of cholesterol, growth hormones and peptides produced in their cells' mitochondria - that correlate to centenarians' enviable lifespan and healthspan.
In Age Later, he translates those findings to news readers can use - including taking melatonin and using intermittent fasting - to mimic some of the effects of the 'super agers'' genetic code.
Information
Format: Hardback
Pages: 320 pages
Publisher: St Martin's Press
Publication Date: 06/07/2020
Category: Coping with old age
ISBN: 9781250230850