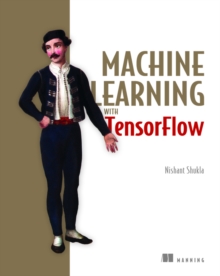 Machine Learning with TensorFlow
Paperback
Description
DESCRIPTIONBeing able to make near-real-time decisions is becoming increasinglycrucial.
To succeed, we need machine learning systems that can turnmassive amounts of data into valuable insights.
But when you're juststarting out in the data science field, how do you get started creatingmachine learning applications?
The answer is TensorFlow, a new opensource machine learning library from Google.
The TensorFlow librarycan take your high level designs and turn them into the low levelmathematical operations required by machine learning algorithms. Machine Learning with TensorFlow teaches readers about machinelearning algorithms and how to implement solutions with TensorFlow. It starts with an overview of machine learning concepts and moves onto the essentials needed to begin using TensorFlow.
Each chapterzooms into a prominent example of machine learning.
Readers cancover them all to master the basics or skip around to cater to theirneeds.
By the end of this book, readers will be able to solveclassification, clustering, regression, and prediction problems in thereal world. KEY FEATURES* Lots of diagrams, code examples, and exercises* Solves real-world problems with TensorFlow* Uses well-studied neural network architectures* Presents code that can be used for the readers' own applicationsAUDIENCEThis book is for programmers who have some experience with Python andlinear algebra concepts like vectors and matrices.
No experience withmachine learning is necessary. ABOUT THE TECHNOLOGYGoogle open-sourced their machine learning framework called TensorFlowin late 2015 under the Apache 2.0 license.
Before that, it was usedproprietarily by Google in its speech recognition, Search, Photos, andGmail, among other applications.
TensorFlow is one the most popularmachine learning libraries.
Information
Format: Paperback
Pages: 272 pages
Publisher: Manning Publications
Publication Date: 28/03/2017
Category: Algorithms & data structures
ISBN: 9781617293870
Free Home Delivery
on all orders
Pick up orders
from local bookshops