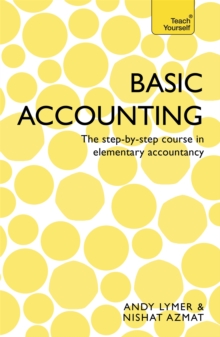 Basic Accounting : The step-by-step course in elementary accountancy
Paperback
Description
Is this the right book for me?Basic Accounting is a complete, step-by-step course in elementary accounting.
Giving clear and concise explanations of accounting principles and practice including PAYE, cashflow statements, accounting for share capital, accounting standards and non-financial reporting, it is perfect for the newcomer to basic accounting, the first- level accounting student or anybody needing to brush up their accounting skills.No prior knowledge of bookkeeping or accounting is assumed.
Clear explanations, diagrams and worked examples enable you to master the basic principles then apply them to practical examples to consolidate and test your knowledge.Basic Accounting includes:Chapter 1: IntroductionChapter 2: Source documentsChapter 3: The ledger systemChapter 4: Balancing the cash bookChapter 5: Double entry theory and practiceChapter 6: The trial balanceChapter 7: Gross profit and stockChapter 8: Trading and profit and loss and accountsChapter 9: The balance sheetChapter 10: Illustrative exampleChapter 11: Cash and bank transactionsChapter 12: Bank reconciliationChapter 13: The petty cash bookChapter 14: Credit transactions and suppliers' accountsChapter 15: The accounts of credit customersChapter 16: Purchases and sales returnsChapter 17: VAT and PAYEChapter 18: Classification of ledger accountsChapter 19: Final accounts of a sole traderChapter 20: Interpretation of accountsChapter 21: Cash flow statementsChapter 22: Capital and revenue expenditureChapter 23: The genera; journalChapter 24: Depreciation of fixed assetsChapter 25: Bad debts and provision for bad debtsChapter 26: Year-end adjustmentsChapter 27: Incomplete records and single entryChapter 28: Non-trading concerns and club accountsChapter 29: Control AccountsChapter 30: Partnership accountsChapter 31: Accounting for managementChapter 32: Costs of production and manufacturing accountsChapter 33: Introduction to limited companiesChapter 34: Accounting for share capitalChapter 35: The final accounts of a limited companyChapter 36: Accounting standardsChapter 37: Non-financial reportingChapter 38: Computerized accountingLearn effortlessly with easy-to-read page design and interactive features:Not got much time?One, five and ten-minute introductions to key principles to get you started.Author insightsLots of instant help with common problems and quick tips for success, based on the authors' many years of experience.Test yourselfTests in the book and online to keep track of your progress.Extend your knowledgeExtra online articles to give you a richer understanding of accounting.Try thisInnovative exercises illustrate what you've learnt and how to use it.
Information
Format: Paperback
Pages: 368 pages
Publisher: Hodder & Stoughton General Division
Publication Date: 27/08/2015
Category: Accounting
ISBN: 9781473609136
Free Home Delivery
on all orders
Pick up orders
from local bookshops