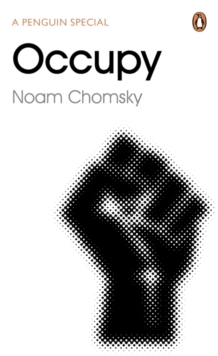 Description
Occupy gives Noam Chomsky's thoughts on a movement which swept the world 'Occupy is the first major public response to thirty years of class war.' Since its appearance in Zuccotti Park, New York, in September 2011, the Occupy movement has spread to hundreds of towns and cities across the world.
No longer occupying small tent camps, the movement now occupies the global conscience as its messages spread from street protests to op-ed pages to the highest seats of power.
From the movement's onset, Noam Chomsky has supported its critique of corporate corruption and encouraged its efforts to increase civic participation, economic equality, democracy and freedom.
Through talks and conversations with movement supporters, Occupy presents Chomsky's latest thinking on the central issues, questions and demands that are driving ordinary people to protest.
How did we get to this point? How are the wealthiest 1% influencing the lives of the other 99%?
How can we separate money from politics? What would a genuinely democratic election look like?
How can we redefine basic concepts like 'growth' to increase equality and quality of life for all?Occupy is another vital contribution from Chomsky to the literature of defiance and protest, and a red-hot rallying call to forge a better, more egalitarian future. Noam Chomsky is the author of numerous bestselling political books, including Hegemony or Survival, Failed States, Interventions, Perilous Power, What We Say Goes, Imperial Ambitions, Making the Future, How the World Works, and Hopes and Prospects all of which are published by Hamish Hamilton/Penguin.
He is a professor in the Department of Linguistics and Philosophy at MIT, and is widely credited with having revolutionized modern linguistics.
Chomsky has supported the initiatives of the Occupy movement from its first weeks.
He lives in Lexington, Massachusetts.
Information
Format: Paperback
Pages: 128 pages
Publisher: Penguin Books Ltd
Publication Date: 01/05/2012
Category: Geopolitics
ISBN: 9780241964019
Free Home Delivery
on all orders
Pick up orders
from local bookshops
Reviews
Showing 1 - 1 of 1 reviews.
Review by the.ken.petersen
16/06/2015
The Occupy movement has been a breath of fresh air in a world that has fallen off the rails. The movement is amazingly elastic; defying attempts to pigeon-hole it. This book follows a similar line: the analysis is almost beyond dispute, and Chomsky, wisely, avoids the temptation to be didactic as to the solutions. Nothing destroys unity quicker than a leadership issuing diktats. This book may be short on answers, but, it is full of hope: the hope that the 99% will reassert themselves. The main problem, which I foresee, is that capitalism has been clever: it is no longer defined by nation states. The big companies are world-wide and, until there is a world government, our chances of catching up are limited. The prospects of world agreement must be on a par with England winning the next World Cup so, Occupy works from the bottom. There is a logic to the idea that those being disenfranchised by the system should pull together but, sadly, in reality, there are many on the bottom rung who accept what they are told: namely, that this is the only way that things can be. The ruling class have the right to rule. We have moved very little from the time at which the King had divine right upon his side. It is just, that now, those with the divine right operate behind the scenes, leaving politicians to dance to their tune so that the politician may appear to be making decisions.This book offers hope, but little else.