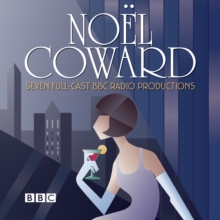 The Noel Coward BBC Radio Drama Collection : Seven BBC Radio full-cast productions
CD-Audio
Description
Seven BBC radio full-cast productions of Noel Coward's classic plays - plus bonus material including a profile of Coward and extracts from his diariesRenowned for his wit, style and sophistication, Noel Coward was one of the greatest playwrights of the twentieth century.
His plays, set in the glittering world of high society in which he lived, are much admired and have remained in the popular theatre repertoire to this day. This collection brings together the very best radio adaptations of Coward's works, encompassing sparkling comedies of manners Private Livesand Hay Fever, farcical ghost story Blithe Spirit, and daring menage a trois drama Design for Living.
Here, too, is his controversial first hit The Vortex; the poignant Still Life (the inspiration for the film Brief Encounter); and the semi-autobiographical Present Laughter. Among the star-studded cast are Helena Bonham-Carter, Bill Nighy, Judi Dench, Celia Imrie, Roger Allam, Harriet Walter, Paul Rhys, Stephanie Cole and Paul Scofield. Also included is a BBC World Service profile of Noel Coward, comprising interviews, musical extracts and archive clips; and the BBC Radio 4 programme 'From His Diaries', featuring a selection of passages from Coward's journal read by Simon Cadell. Private LivesAmanda...Helena Bonham-Carter Elyot...Bill Nighy Sibyl...Andrea Riseborough Victor...Paul RitterLouise...AnnaRose Cattanach Directed by Sally Avens Hay FeverJudith Bliss...Judi Dench David Bliss...Michael Williams Richard Greatham...Geoffrey Palmer Marya Arundel...Celia Imrie Jackie Coryton...Patricia Brake Sandy Tyrell...Christopher Blake Simon Bliss...Patrick Pearson Sorel Bliss...Alison Reid Qara...Patricia Hayes Directed by Leslie Lawton Blithe SpiritCharles...Roger Allam Madame Arcati...Maggie Steed Elvira...Zoe WaitesRuth...Hermione GullifordDr Bradman...David Killick Mrs Bradman...Tilly Tremayne Edith...Natalie Cassidy Dramatised by Bert Coules Directed by Philip Franks Design for Living Gilda...Cheryl Campbell Otto...Alex JenningsLeo...Michael KitchenErnest Friedman...James LaurensonMr Birbeck...Alan Barker Henry Carver...Bradley Lavell Miss Hodge/Helen...Joanna Myers Grace Torrence...Linda Marlowe Directed by Ned Chaillet Pianist: Jimmy Hardwick The Vortex Florence Lancaster...Harriet Walter Nicky...Paul Rhys Helen...Frances JeaterPawnie...John RyeClara Hibbert...Jenny FunnellTom Veryan...Robert Portal David Lancaster...Peter BlytheBunty Mainwaring...Federay HolmesBruce Fairlight...Keith DrinkelPreston...Pamela Grace Directed by John Tydeman Pianist: Mike Sykes Still Life Laura Lesson...Amanda RootDr Alec Harvey...John DuttineMyrtle Bagott...Stephanie ColeAlbert Godby...Trevor PeacockBeryl Waters/Lady on Train...Sunny OrmondeStanley...Brian ParrDolly Messiter...Josephine TewsonBill...Richard CurnowJohnny/Guard...Malcolm McKeeDramatised by Malcolm McKee Directed by Sue Wilson Music composed by Malcolm McKee Present Laughter Gary Essendine...Paul ScofieldLiz Essendine...Joy ParkerMonica Reed...Patricia RoutledgeJoanna Lyppiatt...Fenella FieldingHenry Lyppiatt...Alan RoweMorris Dixon...Bernard JoynerDaphne Stillington...Miriam MargolyesLady Saltburn...Betty Huntley-Wright Fred...Timothy BatesonMiss Erikson...Diana OlssonRoland Maule...David Timson Dramatised and produced by Ian Cotterell Duration: 14 hours approx.
Information
Format:CD-Audio
Publisher:BBC Worldwide Ltd
Publication Date:02/08/2018
Category:
ISBN:9781787531659
Other Formats
eAudiobook MP3 from £8.66