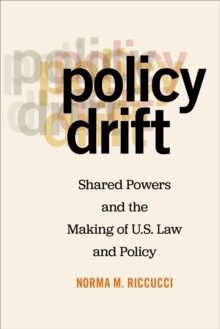 Policy Drift : Shared Powers and the Making of U.S. Law and Policy
Paperback / softback
Description
The role of formal and informal institutional forces in changing three areas of U.S. public policy: privacy rights, civil rights and climate policy There is no finality to the public policy process.
Although it's often assumed that once a law is enacted it is implemented faithfully, even policies believed to be stable can change or drift in unexpected directions.
The Fourth Amendment, for example, guarantees Americans' privacy rights, but the 9/11 terrorist attacks set off one of the worst cases of government-sponsored espionage.
Policy changes instituted by the National Security Agency led to widespread warrantless surveillance, a drift in public policy that led to lawsuits challenging the constitutionality of wiretapping the American people. Much of the research in recent decades ignores the impact of large-scale, slow-moving, secular forces in political, social, and economic environments on public policy. In Policy Drift, Norma Riccucci sheds light on how institutional forces collectively contributed to major change in three key areas of U.S. policy (privacy rights, civil rights, and climate policy) without any new policy explicitly being written.
Formal levers of change-U.S. Supreme Court decisions; inaction by Congress; Presidential executive orders-stimulated by social, political or economic forces, organized permutations which ultimately shaped and defined contemporary public policy.
Invariably, implementations of new policies are embedded within a political landscape.
Political actors, motivated by social and economic factors, may explicitly employ strategies to shift the direction of existing public polices or derail them altogether.
Some segments of the population will benefit from this process, while others will not; thus, "policy drifts" carry significant consequences for social and economic change. A comprehensive account of inadvertent changes to privacy rights, civil rights, and climate policy, Policy Drift demonstrates how unanticipated levers of change can modify the status quo in public policy.
Information
Format: Paperback / softback
Pages: 304 pages
Publisher: New York University Press
Publication Date: 13/02/2018
Category: Central government policies
ISBN: 9781479839834