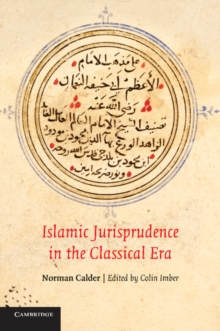 Islamic Jurisprudence in the Classical Era
Paperback / softback
Description
Norman Calder is still considered a luminary in the field of Islamic law.
He was one among a handful of Western scholars who were beginning to engage with the subject.
In the intervening years, much has changed, and Islamic law is now understood as fundamental to any engagement with the study of Islam, its history, and its society.
In this book, Colin Imber has put together and edited four essays by Norman Calder that have never been previously published.
Typically incisive, they categorize and analyze the different genres of Islamic juristic literature that was produced between the tenth and fourteenth centuries, showing what function they served both in the preservation of Muslim legal and religious traditions and in the day-to-day lives of their communities.
The essays also examine the status and role of the jurists themselves and give clear answers to the controversial questions of how far Islamic law and juristic thinking changed over the centuries, and how far it was able to adapt to new circumstances.
Information
Format: Paperback / softback
Pages: 242 pages
Publisher: Cambridge University Press
Publication Date: 20/03/2014
Category: Islamic law
ISBN: 9781107654891