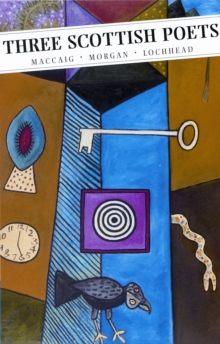 Three Scottish Poets
Paperback
Description
MACCAIG * MORGAN * LOCHHEAD This book contains a selection of the finest work from three of Scotland's best-known and best-loved poets: Norman MacCaig, Edwin Morgan and Liz Lochhead.
They have fascinated and charmed thousands of readers and listeners across Europe and America with the energy, humour and compassion of their vision. MacCaig's memorable celebrations of the physical world and the tragic-comic note of many of his short lyrics contrast strikingly with Morgan's poems on the modern world and city life.
Liz Lochhead writes with an alert and sensitive eye on personal relationships and women's experience of them. The book provides an invaluable introduction to modern Scottish poetry and to the poets who are arguably its greatest practitioners.
Information
Format: Paperback
Pages: 128 pages
Publisher: Canongate Books Ltd
Publication Date: 03/01/1998
Category: Poetry
ISBN: 9780862414009
Free Home Delivery
on all orders
Pick up orders
from local bookshops
Reviews
Showing 1 - 2 of 2 reviews.
Review by sanddancer
16/06/2015
 I fell in love with Edwin Morgan's poem 'When You Go' when I heard it on the BBC's Culture Show a few years ago and I've been meaning to read more of his work since. My library had this anthology which sandwiches Morgan between two other Scottish poets. My knowledge of contemporary poetry is pretty much nil, so I didn't know anything by either of the other two, but I enjoyed the collection. MacCraig's work is the most obviously Scottish with many of his poems being set in the Highlands. I particularly liked the sly wit of the poems Aunt Julia, My Last Word Frogs and Still Life. I was already familiar with some of Edwin Morgan's poems, but none quite matched 'When You Go', but completely different I enjoyed The Mummy and Construction for I K Brunel. The last set by Liz Lockhead appealed to me the least being a bit long for my tastes, but The Other Woman has stuck in my mind. Although the three poets were very different, each of them had a poem about missing someone that I liked, 'No Choice', 'Absense' and 'The Empty Song'
Review by DonnaMarieMerritt
27/08/2015
THREE SCOTTISH POETS: MacCAIG, MORGAN, LOCHHEAD edited by Roderick Watson… I ordered this book because I had read a delightful poem by Norman MacCaig called "Small Boy" and was disappointed not to find it here. I was not thrilled with the quality of the print job either (Canongate Classics, printed and bound by Clays Ltd)—and it would have helped to have the poet's name on the bottom of the page for his/her section—but I found much to love in the words. Best read in a Scottish brogue, these were some of my favorite lines from each:Norman MacCaig: "The thatched roof rings like heaven where mice / Squeak small hosannahs all night long" and "a sea tin-tacked with rain" and "I love frogs that sit / like Buddha" and "The collie underneath the table / Slumps with a world-rejecting sigh."Edwin Morgan: "After many summer dyes, the swan-white ice / glints only crystal beyond white. Even / dearest blue's not there, though poets would find it" and "half reluctant, half truculent, / half handsome, half absurd, / but let me see you forget him: not to be done."Of course, there were entire poems that were magnificent in addition to those few select lines. My favorite voice in the collection, though, belongs to Liz Lochhead. Her observations of the smallest details take on significance (e.g., her shampoo in "The Empty Song"). The majority of her poems are about relationships along with a brilliant monologue called "Verena: Security" in which she honestly explores the pros and cons of a significant other working away from home for weeks at a time. I'll leave you and this review with the last stanza of Lochhead's "Hafiz on Danforth Avenue":And to tell you this is easy,scribbling this was as simpleas the shopping-list it jostleson the next page of my notebook.Love, as well as bread and coffeeit says eggplants, olive oildon't forgetthe nutmeg and the cinnamon.