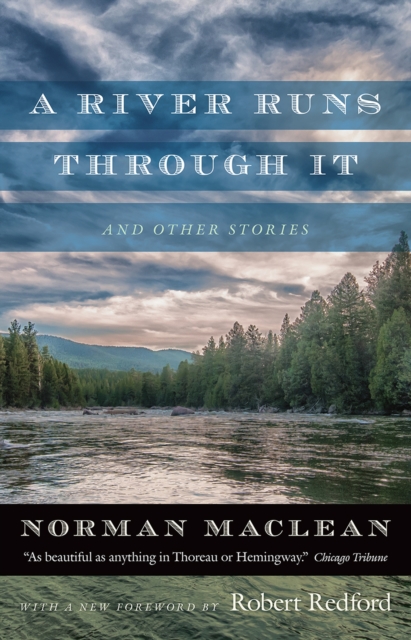 A River Runs through It and Other Stories
Paperback / softback
Description
When Norman Maclean sent the manuscript of A River Runs through It to New York publishers, he received a slew of rejections.
One editor, so the story goes, replied, "It has trees in it." Forty years later, the title novella is recognized as one of the great American tales of the twentieth century, and Maclean as one of the most beloved writers of our time.
The finely distilled product of a long life of often surprising rapture for fly fishing, for the woods and their people, and for the interlocked beauty of life and art A River Runs through It has over the decades established itself as a classic of the American West.
This new edition will introduce a fresh audience to Maclean's beautiful prose and understated emotional insights.
Elegantly redesigned, A River Runs through It includes a new foreword by Robert Redford, whose film adaptation of River turns twenty-five in 2017.
Based on Maclean's own experiences as a young man, the two novellas and short story it contains are set in the small towns and mountains of western Montana.
It is a world populated with drunks, loggers, card sharks, and whores, but also one rich in the pleasures of fly fishing, logging, cribbage, and family. By turns raunchy and elegiac, these superb tales express, in Maclean's own words, "a little of the love I have for the earth as it goes by." Though he grew up in the first decades of the twentieth century in the western Rockies working summers in logging camps and for the US Forest Service and cultivating a lifelong passion for the dry fly it was only at the age of seventy, as a retired English professor, that Norman Maclean discovered what he was meant to do: write.
Moving and profound, A River Runs through It honors the literary legacy of a man who improbably gave voice to an essential corner of the American soul. "I am haunted by waters," Maclean writes at the close of A River Runs through It.
So, now, are we all.
Information
Format:Paperback / softback
Pages:240 pages
Publisher:The University of Chicago Press
Publication Date:16/05/2017
Category:
ISBN:9780226472065
Information
Format:Paperback / softback
Pages:240 pages
Publisher:The University of Chicago Press
Publication Date:16/05/2017
Category:
ISBN:9780226472065