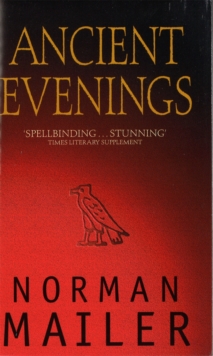 Ancient Evenings
Paperback
Description
Ancient Evenings, a dazzlingly rich, deeply evocative novel, recreates the long-lost civilisation of Ancient Egypt.
Mailer breathes life into the figures of that era; the eighteenth dynasty Pharaoh Rameses and his wife, Queen Nefertiti; Menenhetet, their creature, lover and victim; and the gods and mortals that surround them in intimate and telepathic communion.
His hero, three times reincarnated during the novel, moves in the bright sunlight of white temples, in the exquisite gardens of the royal harem, along the majestic flow of the Nile and in the terrifying clash of battle.An outstanding work of creative imagination, Ancient Evenings displays Mailer's obsession with magic, violence and eroticism and lives on in the mind long after the last page has been turned.
Information
Format: Paperback
Pages: 720 pages
Publisher: Little, Brown Book Group
Publication Date: 02/10/1997
ISBN: 9780349109701
Free Home Delivery
on all orders
Pick up orders
from local bookshops
Reviews
Showing 1 - 3 of 3 reviews.
Review by weezla
16/06/2015
I recently completed my 4th or 5th re-reading of this book. My familiarity with the characters and their environments allowed for an enriched reading experience and did not detract in any way. Mailer wrote with such precision and care that I expect to have an even deeper experience the next time I pick this book out of my shelves. Like Tom Wolfe, Norman Mailer often elaborates on a specific subject for pages or even entire chapters, but because I am so immersed in the world he has created, I find that level of detail illuminating.
Review by 912greens
16/06/2015
If you like the word "phallus", then this is the book for you. (Actually, this novel was kinda interesting from the historical/mythological perspective.)
Review by HadriantheBlind
16/06/2015
Oh, what the fuck, Norman. You've completely lost it.<br/><br/>I respected The Naked and the Dead very much. A true epic of the Pacific War, no question. This is something by a different person entirely. Now, in his later career, he just seems to be fascinated with shit - literally. The historical novel about Hitler seemed to have too much rambling rants about piss in it. I refuse to read too much into his personal life, but this almost seems fetishistic.<br/><br/>Aside from that, I've always had a fascination for the mythology and history of Ancient Egypt, and it takes special effort to make this seem boring. What a waste.<br/><br/>