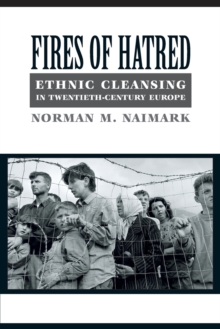 Fires of Hatred : Ethnic Cleansing in Twentieth-century Europe
Paperback
Description
Of all the horrors of the last century - perhaps the bloodiest century of the past millennium - ethnic cleansing ranks among the worst.
The term burst forth in public discourse in the spring of 1992 as a way to describe Serbian attacks on the Muslims of Bosnia-Herzegovina, but as this book attests, ethnic cleansing is neither new nor likely to cease in our time.
Here Norman M. Naimark, distinguished historian of Europe and Russia, proides an insightful and heartbreaking history of ethnic cleansing and its relationship to genocide and population transfer.
Focusing on five specific cases, he exposes the myths about ethnic cleansing, in particular the commonly held belief that the practice stems from ancient hatreds.
Rather, Naimark shows that this face of genocide had its roots in the European nationalism of the late 19th century but found its most virulent expression in the 20th century as modern states and societies began to organize themselves by ethnic criteria.
The most obvious example, and one of Naimark's cases, is the Nazi attack on the Jews that culminated in the Holocaust. Naimark also discusses the Armenian genocide of 1915 and the expulsion of Greeks from Anatolia during the Greco-Turkish War of 1921-22; the Soviet forced deportation of the Chechens-Ingush and the Crimean Tatars in 1944; the Polish and Czechoslovak expulsion of the Germans in 1944-47; and Bosnia and Kosovo.
In this harrowing history, Naimark reveals how over and over, as racism and religious hatreds picked up an ethnic name tag, war provided a covre for violence and mayhem, an evil tapestry behind which nations acted with impunity.
Information
Format: Paperback
Pages: 256 pages, Ill.
Publisher: Harvard University Press
Publication Date: 01/09/2002
Category: European history
ISBN: 9780674009943
Free Home Delivery
on all orders
Pick up orders
from local bookshops