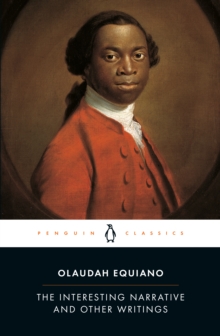 The Interesting Narrative and Other Writings
Paperback
Description
An exciting and often terrifying adventure story, and a precursor to the famous nineteenth-century slave narratives, Equiano's The Interesting Narrative recounts his kidnapping in Africa aged ten, his service as a slave of an officer in the British Navy for ten years, and his life after he bought his freedom in 1766, growing to become one of the foremost figures of the anti-slavery movement in Britain.The Interesting Narrative is a spirited autobiography, a tale of spiritual quest and fulfillment and a sophisticated treatise on religion, politics and economics.
Information
Format: Paperback
Pages: 432 pages
Publisher: Penguin Books Ltd
Publication Date: 27/05/2003
ISBN: 9780142437162
Free Home Delivery
on all orders
Pick up orders
from local bookshops
Reviews
Showing 1 - 3 of 3 reviews.
Review by DCArchitect
16/06/2015
Mr. Equiano's story of his own enslavement, life as a slave, and eventual emancipation. Fascinating in its subject and execution, Mr. Equiano's story is one of real life adventure and spirituality that brings both slavery and the British Emancipation efforts to life.
Review by othurtle
16/06/2015
You cannot keep a good man down! This guy always bounced back...His treatment even as a slave was pretty good when away from the W Indies but all slaves, and also free blacks were treated abominably there. Whole chapter about his discovery of grace and personal assurance. Little about resentments... Amazing man, sickening fellow men.
Review by MeditationesMartini
16/06/2015
Equiano is an engaging sort with an artless yet shrewd means of delivering a fascinating life story--captured as a Niger Basin lad by neighbouring peoples, traded as a slave from village to village until--shit!--he came to the sea and got snapped up by the whites (and the first rule of being a slave is you do <i>not</i> wanna be owned by the white man); then off to the New World, where you add some European cultural mores to your natural acuity, go back to London and then all over the world as man<strike>servant</strike>slave to a succession of self-interested but mostly unmalicious--sometimes even decent!--masters. You get shipwrecked off the Bahamas, party with Miskito people on a Jamaican plantation, see Smyrna, fail to find the Northeast Passage (1), eventually buy your freedom, and rise in the world as a sea captain and later exec director of a failed slave resettlement effort in Sierra Leone. You do it all under the constant threat of white rapacity and impunity--guys are always taking your bag of oranges or kidnapping you and selling you into slavery again, and it doesn't matter that you're a free man or civil servant or whatever--your only recourse is the kindness of random humane whites. You take advantage of it, cannily presenting yourself as pious, unassuming, soft and possessed of all the Christian virtues, almost too much, almost with a grovel-flourish before a white God, but also with an effort to model the putative <i>British</i> virtues--plainspokenness, bravery, self-regard--and chastise the whites for constantly failing to live up to them themselves in a way that veers between righteous and sanctimonious, even passive-aggressive.<br><p>Not a good look at the typical slave experience, but an intriguing depiction of what it took to get ahead in the whitemansiest of all white man's world. And his poetry will cut you to the quick.