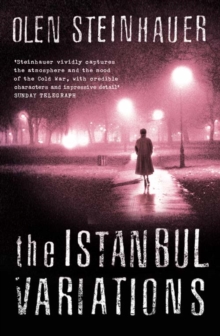 The Istanbul Variations
Paperback
Description
A beautifully written thriller from the acclaimed Cold War series writer: `a welcome addition to the wartime ground mapped out by Philip Kerr and Alan Furst' GuardianPrague, 1968: a young student is captured as he tries to flee the country in the wake of Russia's suppression of the Prague Spring.Seven years later, a People's Militia homicide investigator boards a plane for Istanbul.
When it is hijacked by Armenian terrorists, the Turkish authorities try to establish contact - but the plane explodes in mid-air.No negotiation, no explanation.Why?
Two investigators are assigned to the case: Gavra Noukas, a homicide detective who lives a dangerous double-life, and Brano Sev, an experienced secret policeman loyal to the state.
Both believe their superiors are keeping them in the dark but neither can work out why.
As they start unravelling the elaborate mystery, though, a trail emerges - one leading back to a seven-year-old murder, a seemingly insignificant killing with terrifying consequences.
Information
Format: Paperback
Pages: 304 pages
Publisher: HarperCollins Publishers
Publication Date: 02/07/2007
Category: Thriller / suspense
ISBN: 9780007232062
Free Home Delivery
on all orders
Pick up orders
from local bookshops
Reviews
Showing 1 - 1 of 1 reviews.
Review by Speesh
16/06/2015
I really not sure I know what to feel about this one. Apart from a certain amount of disappointment.<br/><br/>Come on Olen, I know you can do better than this.<br/><br/>To be honest, I'm not even completely sure I know what it was all about. Which is why I'm a little disappointed, as I was tremendously impressed by and thoroughly enjoyed the two previous books of his I've read.<br/><br/>Istanbul Variations really is nowhere near as good as it should have been, based on that previous experience. Nowhere near as mind-bogglingly good and memorable as they were, or this should have been. It's only because I'm holding the book in my hands right now, that I can remember what happened. In fact, I think I feel really rather ambivalent about it. Take it or leave it. As detached from the story as the story seemed detached from me, the reader. There was very little feeling of involvement got out of me, the reader. It was all seemed more than a little 'at arm's length'. Like watching the story unfold while being the other side of a misty window from it. Rather than being in the room with it. If you understand what I mean.<br/><br/>I'm guessing (and of course no doubt guessing wrongly), but it seemed like he wrote a full story, then took out a lot of the explanations and plot detail, in an attempt to make it seem a lot more exciting, pacey, lean and interesting. Like it would be a challenge to us, to do some work to figure it all out. But I think he left too much out. Perhaps not to the detriment of the tale. But to the detriment to gaining my involvement, making me care. I kept going back over a section to see if I'd missed the line that would make the difference. Never found it.<br/><br/>What's it about?! Istanbul, 1975, Cold War (eastern) Europe, airport, hi-jack, plane crash, investigation, Prague Spring, treachery, dredging up the past, mind-control…and that's where it left me behind.<br/><br/>However, as I so much enjoyed the others I have read, and because I have a couple more up on the shelf there - I will give more Olen Steinhauer a go.