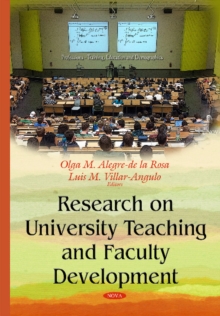 Research on University Teaching & Faculty Development
Hardback
Description
This book builds on the tradition of concern for university innovation that has characterised higher education throughout the world.
It recognises the university needs for continuous development of students and faculty.
It involves recommendations applicable to classroom teaching, thus providing a bridge between research and practice.
It helps readers meet some university challenges and build effective universities for present times.
For all those reasons, we believe that this book is right.
The need for renewed focus on innovation in higher education stems from several sources.
First, some social and educational agencies are expressing dissatisfaction with the performance of the general higher education system.
Although we do not agree with the criticism, many universities around the world assume their responsibility for launching research projects, and programs for promoting quality in teaching and learning within their faculty and community.
Second, the world in which universities operate is changing noticeably.
Colleges and universities are experiencing basic changes in student admission and placement.
In the nearest future the student body will be over 25 years of age.
Students will need methodologies to access learning materials and participate in online actions and communications over the Internet at their own convenience.
The third reason for a special attention on university innovations comprises market competition in society.
Students are annually evaluating the value of any university degree based upon their perceptions on quality in flexible teaching, resources and new educational technologies, campus and classroom learning environments, services and fees.
Students are demanding more than a piece of paper as a premium placed on a college degree.
They envisage universities must provide the major guide and best way for finding jobs and career progress.
Fourth, colleges and universities are encouraging the development of long-distance education and massive open online courses.
Government agencies foster competition among institutions, in order to provide powerful mental tools to help students to master tough subjects.
Besides, private higher education institutions are emerging and competing for students with those of the public sector.
Finally, some books outline improvement processes needed by faculty members to undertake curriculum and teaching innovations.
However, very few claim to describe the teaching competencies needed by university faculty who work in higher education classroom settings.
Furthermore, universities offering innovation programs and courses use those competencies to identify learning change and teacher and student progress toward curriculum development.
Information
Format: Hardback
Pages: 344 pages
Publisher: Nova Science Publishers Inc
Publication Date: 01/06/2015
Category: Universities
ISBN: 9781634823166