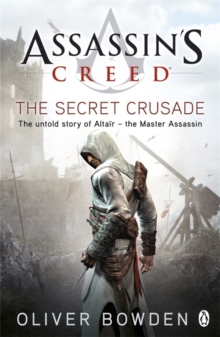 The Secret Crusade : Assassin's Creed Book 3
Paperback
Description
Assassin's Creed: The Secret Crusade is the thrilling novelisation by Oliver Bowden based on the game series.Niccolo Polo, father of Marco, will finally reveal the story he has kept secret all his life - the story of Altair, one of the brotherhood's most extraordinary Assassins.
Altair embarks on a formidable mission - one that takes him throughout the Holy Land and shows him the true meaning of the Assassin's Creed.
To demonstrate his commitment, Altair must defeat nine deadly enemies, including Templar leader, Robert de Sable.
Altair's life story is told here for the first time: a journey that will change the course of history; his ongoing battle with the Templar conspiracy; a family life that is as tragic as it is shocking; and the ultimate betrayal of an old friend.Assassin's Creed: The Secret Crusade is based on the phenomenally successful gaming series.
Oliver Bowden is the pen-name of an acclaimed novelist.
Information
Format: Paperback
Pages: 464 pages
Publisher: Penguin Books Ltd
Publication Date: 23/06/2011
Category: Thriller / suspense
ISBN: 9780241951729
Other Formats
EPUB from £1.99
eAudiobook MP3 from £8.80
Free Home Delivery
on all orders
Pick up orders
from local bookshops
Reviews
Showing 1 - 2 of 2 reviews.
Review by 6h.library
16/06/2015
This book is an amazing fantasy story about a brotherhood of assassins. It's blend of action, interesting dialogue, and stealth mixes perfectly to make an interesting and amazing book from beginning to end. It uses fascinating words and an engrossing story to capture ethe readers attention. I love how it expertly describes the fights chases and climbs with such pure awesomeness
Review by NerdOnTheFloor
16/06/2015
Here we go then. This was, as I thought from the start, a preface, shall we say, to the new game and book coming out in November: Assassins Creed Revelations. It reads as the recounting of Altair's story by Niccolo Polo told to Maffeo Polo, his brother. It goes from Altair's experiences as a young child born into the order, his missions against the Templars (and the betrayal he faces in the wake of this), his return to the Order and his ascent as the Assassin Master. It also brings to light how the Piece of Eden, The Apple, was brought to the knowledge of the Assassins, how Altair learned its secrets and wrote the Assassin Codex, how the Codex was lost and how the Creed was brought to the east. <br/><br/>Another Assassin's Creed book knocked back and I am left feel at once satisfied and hungry for more. This books was a brilliant insight into the life of the greatest of Master Assassins. Released as a bit of a pre-buffer to Revelations, hinting at items called "keys" that, I can only assume, with feature as the main quest driver for the new game. The body of the book is, as I said, Niccolo Polo recording telling Altair's story to his brother Maffeo in his journals. In the prologue and the epilogue the reader is shown that these journals are being read by a Master assassin, <spoiler>later reveled to be Ezio Auditore whom is on his way to Constantinople in search of these scattered and hidden "keys", whatever they may be for.</spoiler> <br/><br/>It was exciting; each chapter left me wanting to turn to the next and learn more. Altair's story was woven so well, throwing up new twists when you felt sure that the bulk of his story was drawing to a close. As the final climax of the story built up I could not put it down: I had to finish it.<br/>And not only was the storytelling engrossing, but the quality was much improved on Bowden's previous work. As always, some klunky writing was present, however the story felt like a whole. It felt like it had a solid beginning, a solid middle and a solid end, whereas <i>Renaissance</i> and <i>Brotherhood</i> did feel kind of like the end was rushed and tacked on as an after-thought. Not with <i>Crusade</i>; it was solid, steady, exciting, engrossing and satisfying while teasing you with enough information and tips about what might come, enticing you as to what the next instalment of AC might bring. I can't wait for Revelations now. <br/><br/>Very good read, if you're willing to overlook some slightly less-polished moments.
Also in the Assassin's Creed series | View all