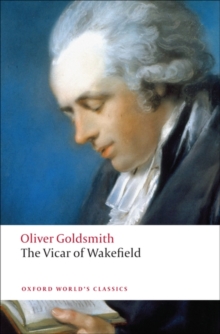 The Vicar of Wakefield
Paperback
Description
'He loved all mankind; for fortune prevented him from knowing there were rascals.' Oliver Goldsmith's hugely successful novel of 1766 remained for generations one of the most highly regarded and beloved works of eighteenth-century fiction. It depicts the fall and rise of the Primrose family, presided over by the benevolent vicar, the narrator of a fairy-tale plot of impersonation and deception, the abduction of a beautiful heroine and the machinations of an aristocratic villain. By turns comic and sentimental, the novel's popularity owes much to its recognizable depiction of domestic life and loving family relationships.
Regarded by some as a straightforward and well-intentioned novel of sentiment, and by others as a satire on the very literary conventions and morality it seems to embody, The Vicar of Wakefield contains, in the figure of the vicar himself, one of the most harmlessly simply and unsophisticated yet also ironically complex narrators ever to appear in English fiction.
ABOUT THE SERIES: For over 100 years Oxford World's Classics has made available the widest range of literature from around the globe. Each affordable volume reflects Oxford's commitment to scholarship, providing the most accurate text plus a wealth of other valuable features, including expert introductions by leading authorities, helpful notes to clarify the text, up-to-date bibliographies for further study, and much more.
Other Formats
Paperback from £2.99
CD-Audio from £18.65
Hardback from £18.75
Paperback / softback from £15.85
Free Home Delivery
on all orders
Pick up orders
from local bookshops
Reviews
Showing 1 - 4 of 4 reviews.
Review by cmbohn
16/06/2015
Reverend Charles Primrose is the father of a large family and a vicar. He has a private income which supports him in a nice lifestyle. But his income is suddenly lost and he must move to the country and begin a new modest life there. The new landlord is a notorious seducer, but for some reason, they don't seem to listen to this, and push their daughters in his direction. One of their daughters IS seduced, and then their lives fall apart.From a pure plot or story view, this is action packed, but totally melodramatic. On his way from rescuing his wayward daughter, he comes home to find their house has burned down. His evil landlord demands payment. They wind up in debtor's prison. And so on, and on. It is completely unbelievable.As for the characters, it's pretty hard to believe too. They are so completely naive to the ways of the world. Both the vicar and his son are swindled by the same con man. They remain oblivious to the motives of their landlord way past the point of credibility. They are vain. The vicar himself is given to sermonizing at the drop of a hat and takes offense if others don't enjoy this. They are likable enough, though, and I was hoping they would wise up at some point. The craziest part is at the end, when it turns out that Olivia is actually MARRIED to the seducing landlord. One of the other characters actually "wishes her joy!?" Yeah, that would make me happy, all right, to be stuck married to a lying libertine.And yet, it was kind of fun to read. I skipped some of the long sermons and stuff. Boring. But I did finish it. This was a very popular book at the time, and later was popular as the subject of spoof and satire. Worth reading for that, and it is short, but otherwise, I wouldn't really recommend it. 2.5 stars, mostly for the fact that it is an influential book and for the unintentional humor.
Review by AnnaMC
16/06/2015
Finally I have managed to stay awake at bedtime long enough to reach the end of this novel. I had to concentrate quite hard to stay focused on the 18th century turn of phrase in this farcical romantic tale written in 1762, and consequently kept falling asleep with exhaustion after just 2 pages; but don't let my laziness put you off! In the end I found it to be a highly amusing romp with an unexpected happy ending. It is written in the form of a memoir of the fictional Dr. Primrose, a ridiculously naive and trusting country pastor. His good-natured generosity get him and his large family into a heap of trouble. Dr. Primrose goes to great lengths in order to be hospitable to everyone he encounters, even those he doesn't find particularly savoury. His method of discouraging visits from exploitative distant relatives is to contrive a reason to lend them something of value like a horse, trusting that it be returned on their next visit, but knowing full well that is the last he will see of either the horse or the disagreeable relation. On some occasions my progress was hampered by the chapter headings which seem unnecessarily long winded and complicated and took quit a few minutes of puzzling over to get the gist. Chapter XXIX might be the worst culprit:"The equal Dealings of Providence demonstrated with Regard to the Happy and Miserable here below. That from the nature of Pleasure and Pain, the Wretched must be repaid the Balance of their Sufferings in the Life hereafter."Once you get over the difficult language though, the story moves along at a surprisingly rapid pace with very little in the way of metaphorical or descriptive narrative. I really enjoyed reading it and I think it is even worth a second read soon.
Review by tinLizzy
16/06/2015
I loved this - for all I'm enamored with 17th & 18th Century British history and literature at the moment. A few bits of narrative I found clunky and overwrought, but for the most part I thoroughly enjoyed it. I'm delighted reading of the attitudes and social mores of this period, and Goldsmith tells an enjoyable tale that resolves with some fun and unexpected (at least to me) twists!
Review by KamGeb
16/06/2015
A proper English novel that was very preachy and it felt like the values of the author were being shoved down my throat. Got through it, but I wouldn't recommend it.
Also in the Oxford World's Classics series | View all