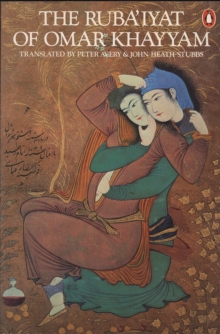 The Ruba'iyat of Omar Khayyam
Paperback
Description
Philosopher, astronomer and mathematician, Khayyam as a poet possesses a singular originality.
His poetry is richly charged with evocative power and offers a view of life characteristic of his stormy times, with striking relevance to the present day. This translation by Peter Avery and John Heath-Stubbs is beautifully and lavishly illustrated in colour with numerous examples of Persian miniature painting.
It also contains a valuable introduction and several appendices, including an essay on Persian painting.
Information
Format: Paperback
Pages: 128 pages, illustrations, bibliography
Publisher: Penguin Books Ltd
Publication Date: 19/11/1981
Category: Poetry by individual poets
ISBN: 9780140059540
Free Home Delivery
on all orders
Pick up orders
from local bookshops
Reviews
Showing 1 - 1 of 1 reviews.
Review by gbill
16/06/2015
Omar Khayyam wrote the poems that make up "The Ruba'iyat" over the course of his life about a thousand years ago in what is now Iran (1048-1131). He was an astronomer and mathematician in addition to being a poet; his religious views are subject to debate but it's clear they were not orthodox. Some see him as a Sufi mystic, others as a humanist skeptic, regardless, his poetry is enjoyable and speaks to me across the centuries. The predominant theme is a recognition of the transience of life; Khayyam tells us to be happy and enjoy ourselves before we pass on, as those who came before us have. This is also a very beautiful edition which includes a large number of Persian paintings in color.Quotes:On happiness in the now:"Go for pleasure, life only gives a moment,Its every atom from a Kaikobad's or a Jamshid's dust;The world's phenomena and life's essenceAre all a dream, a fancy, and a moment's deception.""These few odd days of life have passedLike water down the brook, wind across the desert;There are two days I have never been plagued with regret for,Yesterday that has gone, tomorrow that will come.""It is we who are the source of our own happiness, the mine of our own sorrow,The repository of justice and foundation of iniquity;We who are cast down and exalted, perfect and defective,At once the rusted mirror and Jamshid's all-seeing cup."On sleep:"I was asleep, a wise man said to me'The rose of joy does not bloom for slumberers;Why are you asleep? Sleep is the image of death,Drink wine, below the ground you must sleep of necessity.'"On death:"Though you may have lain with a mistress all your life,Tasted the sweets of the world all your life;Still the end of the affair will be your departure – It was a dream that you dreamed all your life."On the passing of youth:"When we were children we went to the Master for a time,For a time we were beguiled with our own mastery;Hear the end of the matter, what befell us; We came like water and we went like wind."On drinking wine:"Oh heart you will not arrive at the solving of the riddle,You will not reach the goal the wise in their subtlety seek;Make do here with wine and the cup of bliss,For you may and you may not arrive at bliss hereafter.""Drinking wine and consorting with good fellowsIs better than practicing the ascetic's hypocrisy;If the lover and drunkard are to be among the damnedThen no one will see the face of heaven.""I drink no wine, but not because I'm poor,Nor get drunk, though not through fear of scandal;I drank to lighten my heartBut now that you have settled in my heart, I drink no more."On meaninglessness:"What have you to do with Being, friend,And empty opinions about the notion of mind and spirit?Joyfully live and let the world pass happily,The beginning of the matter was not arranged with you in mind."On the transience of life, wow I love this one:"Every particle of dust on a patch of earthWas a sun-cheek or brow of the morning star;Shake the dust off your sleeve carefully – That too was a delicate, fair face." As well as this one: "The globe is the image of a ball compacted of our bones,The Oxus, a trickle of our distilled tears;Hell is a spark from our consuming torrents,Paradise, a moment from our space of reprieve."