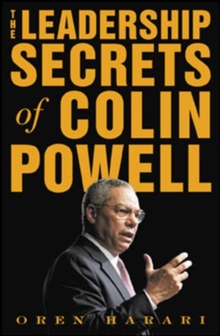 The Leadership Secrets of Colin Powell
Paperback
Description
This is the "New York Times", "Business Week", "Wall Street Journal" and "USA Today Bestseller" - Now in Paperback! "The Leadership Secrets of Colin Powell" goes beyond other books to take an honest look into the foundations of Colin Powell's compelling leadership style.
Sparked with insights and observations that are as refreshingly honest as they are grittily realistic, it provides a blueprint for inspiring anyone - including yourself - to achieve extraordinary levels of performance.Praise for "The Leadership Secrets of Colin Powell" include: "Management professor Oren Harari adopts Colin Powell's rise into the upper ranks of American power as a model for decision makers in the private sector.
Harari hails Powell's character as the essence of a host of supple executive virtues..." - "The Washington Post". "Powell appears to be a natural born leader with an intuitive sense of strategy for advancement in war and politics.
For those of us who are not so lucky to have such diplomacy inherently, Harari's book can teach us how to lead effectively following Powell's example." - "USA Today"."This is a 'battle-tested' leadership book and although the author has shown how to apply these principles in the corporate venue, you don't have to be a CEO to benefit from the words and wisdom of Colin Powell." -"Booklist". "Colin Powell's leadership secrets are not secret anymore.
Management professor Oren Harari has packaged them in a handbook that can be put to good use by anyone who is in a position of leadership or aspires to be." - "Dallas Morning News".
Information
Format: Paperback
Pages: 288 pages
Publisher: McGraw-Hill Education - Europe
Publication Date: 01/08/2003
Category: Biography: business & industry
ISBN: 9780071418614
Free Home Delivery
on all orders
Pick up orders
from local bookshops
Reviews
Showing 1 - 2 of 2 reviews.
Review by DanStratton
16/06/2015
This book was recommended to my by a good friend. I really enjoyed it. It doesn't contain any secrets to make one a great leader, though. What it does contain is a lot of anecdotes about Secretary Powell and how he became a great leader and what he believes are important points to being a leader. The stories are very pointed and show exactly how the traits are lived by a great leader. While bringing home how difficult it is to be a great leader, it also offers hope that some of the rest of us can attain this status under the right conditions and work. One of the important points that really stuck out to me is to have a clearly defined mission that is simple and understandable by everyone. It must be compelling and just. Another is to know when to "piss people off." Being a new manager myself, I have struggled learning this one. It is not possible to be liked all the time and you have to know when to push. One of the more revolutionary ideas that hit Washington under Powell is that the people in the field are smarter than those at headquarters - trust those in the trenches. I think many leaders need to learn this lesson. Regardless of your role in life, I feel there is much to be learned from reading this book. Secretary Powell has some great lessons for all of us. Reading this book has made me want to strive for both being and following a great leader. This is one book I recommend buying and reviewing many times.
Review by afderrick
16/06/2015
A good book that gave some advice that to be honest I didn't found that profound or anything else that I didn't know already. So if I were to be asked if I had learned anything new from this book I would say that probably not, everything in the book is pretty simple and straight forward types of things. None-the-less it was a good book. I felt that many of the chapters within the book were somewhat redundant and could've been shortened down considerabley. I like how the book was set up, it had each chapter that went into one specific iota of leadership qualities and so it would be a good reference book to have and look at later on when needing to be reminded about something. At the end of each chapter it summarized everything and then gave a few (5-ish) "Powell Principles" that also helped sum everything up. Something that after reading the book I could go back in and reread these items and still be reminded about what the book was about and what it's message was without rereading the entire book. This was a good book that I may go out and buy, someone at work suggested this book to me and allowed me to read his, I might go buy a copy just for future reference, even though the message in it is simple it's always good to read and see in other great leader's lives too