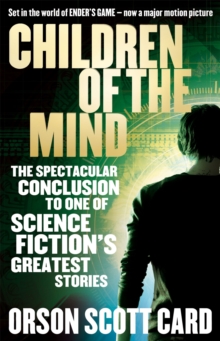 Children Of The Mind : Book 4 of the Ender Saga
Paperback / softback
Description
Achieves and delivers more than almost anything else within the science fiction genre, Ender's Game is a contemporary classic - New York Times'Card's prose is powerful here, as is his consideration of mystical and quasi-religious themes.
Though billed as the final Ender novel, this story leaves enough mysteries unexplored to justify another entry; and Card fans should find that possibility, like this novel, very welcome indeed.' - Publishers Weekly (starred review) on Children of the MindThe planet Lusitania is home to three sentient species: the Pequeninos; a large colony of humans; and the Hive Queen, brought there by Ender.
But once again the human race has grown fearful; the Starways Congress has gathered a fleet to destroy Lusitania. Jane, the evolved computer intelligence, can save the three sentient races of Lusitania.
She has learned how to move ships outside the universe, and then instantly back to a different world, abolishing the light-speed limit.
But it takes all the processing power available to her, and the Starways Congress is shutting down the Net, world by world.
Soon Jane will not be able to move the ships. Ender's children must save her if they are to save themselves. The dazzling Ender series, which has changed the face of science fiction, concludes. Books by Orson Scott Card:Alvin Maker novelsSeventh SonRed ProphetPrentice AlvinAlvin JourneymanHeartfireThe Crystal CityEnder Wiggin SagaEnder's GameSpeaker for the DeadXenocideChildren of the MindEnder in Exile HomecomingThe Memory of the EarthThe Call of the EarthThe Ships of the EarthEarthfallEarthbornFirst Formic War (with Aaron Johnston)Earth UnawareEarth AfireEarth Awakens
Information
Format: Paperback / softback
Pages: 368 pages
Publisher: Little, Brown Book Group
Publication Date: 02/05/2013
Category: Science fiction
ISBN: 9780356501871
Also in the Ender Saga series | View all